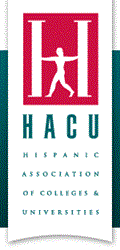 San Antonio, TX (PRWEB) December 19, 2013
The scholarship application for the Student Track at HACU's 28th Annual Conference, "Championing Hispanic Higher Education Success: Investing in America's Future," October 4-6, 2014, at the Sheraton Denver Downtown Hotel in Denver, Colo., is now open. The application deadline is June 27, 2014.
A limited number of scholarships are available and are provided to eligible students by HACU's corporate and federal sponsors. Student Track Scholarships will cover costs for registration, travel and lodging for out-of-state students, and conference-related meals (one per day). Conference scholarship recipients are required to attend all Student Track activities.
To be considered for a conference scholarship, students must complete the 28th Annual Conference Scholarship on-line application, which requires a one-page resume, here.
About HACU
The Hispanic Association of Colleges and Universities (HACU) represents approximately 450 colleges and universities committed to Hispanic higher education success in the U.S., Puerto Rico, Latin America and Spain. For more information, visit http://www.hacu.net.
HACU Media Contact:
Norma Jean Revilla-García
Executive Director of Communications and Marketing
Phone: (210) 692-3805
Fax: (210) 692-0823
E-mail: news(at)hacu(dot)net