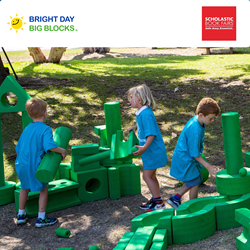 Bright Day Big Blocks and Scholastic Book Fairs bring communities and kids together to learn - what could be better than that?
LOS ANGELES (PRWEB) March 17, 2021
"It's a big day for Bright Day Big Blocks", says Laurel Tucker, Chief Executive and creator of their big block system that helps children learn as they play. "Today we are thrilled to announce to the entire world that our partnership with Scholastic Inc. and Scholastic Book Fairs has begun."
Bright Day Big Blocks serves schools and their community by offering innovative big block play systems that stimulates a child's natural curiosity - as well as develops creativity and imagination, communication and collaboration, critical thinking and problem solving, a sense of accomplishment and self-confidence. The creative play system also builds physical attributes like strength, coordination, and dexterity.
Scholastic Book Fairs, a partner with schools for over 30 years, serves schools and their community by bringing books to students through their events, creating life-long readers and learners in children. Scholastic is loved by their school customers for enabling funds to be raised by these book fair events.
Laurel Tucker continues, "we have been a big fan of everything Scholastic for decades".
How does Scholastic Book Fairs and Bright Day Big Blocks plan to work together? Laurel Tucker explains, "when schools schedule and run a Scholastic Book Fair these schools earn cash or credits that can be used toward products featured in their rewards catalog. For the first time, beginning this spring, Bright Day Big Blocks and Bright Day Medium Blocks, will be featured in the Scholastic Book Fairs catalog. Bright Day will participate in over 100,000 book fair events annually, run in over 75,000 schools nationwide"
Laurel Tucker concludes by saying - "schedule a Scholastic Book Fair, then visit their catalog, enjoy shopping their amazing selection of products, and maybe order Bright Day Big Blocks for your school or organization. We promise educators, parents and of course the children will love our blocks."
About Bright Day Big Blocks
Bright Day Big Blocks is a fun, new and unique play system designed to stimulate creative, child directed play. Bright Day offers big, soft, blocks and builds play space environments that peaks a child's curiosity, unlocks creativity, inspires collaboration, and builds confidence. These blocks encourage play that builds cognitive, physical, emotional and social skills important in the development of all children. Bright Day Big Blocks can be found around the world, in schools, playgrounds, libraries, hospitals, airports, restaurants, hotels and resorts, public parks, camps and almost anywhere you find children playing. Bright Day Big Blocks is transforming children's lives through play, building stronger minds and bodies, and enabling a brighter future for our kids.
About Bright Day Foundation
Bright Day Foundation is a not-for-profit, 501(c)(3) charitable organization whose mission is to help educators and parents better understand and appreciate the importance of play in the development of preschool children. The Foundation accomplishes its goal by creating and distributing awareness building instructional content for adults (i.e. - film documentaries, teacher training and play based curriculum) as well as distributing fun, learning based tools and toys for children that encourage play (big blocks, play environments). Conceived in 1988, registered in 2005, the Foundation supports educators in transforming children's lives, building stronger minds and bodies, and enabling a brighter future for our kids.