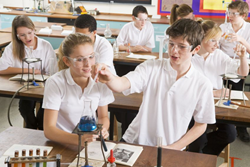 (PRWEB UK) 20 November 2014
An increase in the number of new Free Schools, school mergers and new Academies has led to an increasing number of schools looking to set up new labs and looking for help to ensure they get the right school science supplies to meet the needs of the curriculum and that's where we can help, said a company spokesperson.
Jayne Hinksman recently joined Better Equipped in the role of Sales and Technical co-ordinator for the North and she joins Alan North who looks after the South of the country. Jayne and Alan have over 50 years' experience in the school science equipment field between them and have been using their knowledge to help new schools get exactly the right equipment they will need to help bring science lessons to life and importantly to help get the most out of their budgets.
Our technical team have also been working with Senior Science Technicians in schools to create time saving, easy to use equipment check lists for years 7/8 and 10/11 which enable new schools to easily plan and budget for setting up their new labs.
It's important that new schools have all the necessary equipment for practical science lessons as many experts agree that practical experiments are vitally important in science education. For one thing, they make the learning process fun, allowing children to enjoy their learning which is one of the key ways in which they can be motivated to engage with a subject like Science.
It also helps to cater to the needs of learners who require practical experiments, rather than oral theory, in order to process and memorise key information. So we hope our technical team and set up lists can in some small way help new schools create engaging and effective science lessons from the word go.
If you need any technical support or a copy of our set up lists then please contact us.