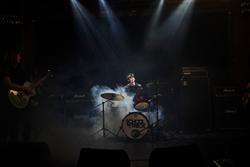 WEST PALM BEACH, Fla. (PRWEB) August 11, 2018
School of Rock has been working with thousands of kids, performing thousands of songs, taking the stage hundreds of times. School of Rock continues to help kids with their confidence showing them anything is possible and at the same time helping keep rock-n-roll alive for future generations.
Rick Rothschild, owner of School of Rock North Palm Beach and South Palm Beach states, "We see so many kids out there who are just playing games on their phones, don't know how to have a one-on-one conversation and have no confidence. They show up at our schools incredibly shy, and next thing you know they are rocking on stage. It's amazing."
School of Rock combines one-on-one lessons with group rehearsals culminating with rock shows on real stages. "We don't do recitals, we do rock shows" says Rick, "It's the closest thing to team sports that you can find in music. We put on shows to teach music, not teach music to put on shows. We are in a time where lots of kids are just hanging by themselves in their rooms staring at computer screens. At the School of Rock, kids are working together for a common goal...to Rock."
Nationally, School of Rock began 20 years ago in Philadelphia PA. Twenty years later, there are over 200 locations around the world. Rick Rothschild, owner of the local schools, began 10 years ago as part of the School of Rock Tradition, new schools typically start with "Pink Floyd's The Wall" and in the fall, the North School will begin practices to perform that in January. "We have come a long way and have seen many of our students studying music in college, performing at Sunfest and making music a huge part of their lives," says Rick.
On August 18th and August 19th, Rick is bringing all of his students from 5 years old to 73 years old to CityPlace where they will be taking over places such as Brother Jimmy's, Copper Blues and Revolutions for a rock-n-roll extravaganza. They are going to have an amazing 2 days at CityPlace. From the littlest students, 5 years old, to 10-12 year olds, to the oldest member at 73, and also kids that have already graduated School of Rock are going to put on a show like you've never seen before. Be on the lookout for the Fall shows dedicated to AC/DC, Guns and Roses The Who and more.
This is a free event, open to the public with all Rock Fans, Rockers and Little Rockers invited to see how we roll, rock-n-roll.