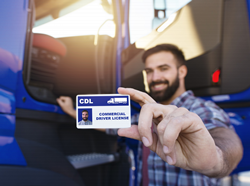 "The [driver shortage] problem is not a lack of interest or disdain for the job; polls show that trucking is a highly-regarded industry. The problem is access to training and licensure.
ST. PETERSBURG, Fla. (PRWEB) February 01, 2021
Increasingly, job-seekers hoping to become professional truck drivers are turning toward community colleges, vocational schools, and high schools that offer commercial driver's license (CDL) training.(1) A growing number of these schools, often with financial support from the trucking industry, are investing in virtual reality simulation to supplement traditional behind-the-wheel instruction.(2) "The growing adoption of simulation as a key component of driver training," says John Kearney, CEO of Advanced Training Systems, "is an encouraging sign of progress in the effort to rebuild America's depleted supply of commercial truckers."
Current industry estimates, says Kearney, whose company is a leading designer and manufacturer of virtual simulators for driver training, among other applications, show that there are 50,000 fewer short- and long-haul truckers in the U.S. than are needed, a total that, if nothing changes, could reach 150,000 by 2028.(3) One component of the problem, he notes, is an aging workforce; the average over-the-road trucker is 46 years old, an average age that is increasing as too few new truckers enter the field.(4)
"The problem," Kearney says, "is not a lack of interest or disdain for the job; polls show that trucking is a highly-regarded industry.(5) The problem is access to training and licensure." For licensing, simulators, Kearney suggests, could be used by state DMV offices to reduce waiting time for a CDL road test—another bottleneck in the supply of new drivers. The technology, he points out, can simulate, and test a driver's reaction to, any imaginable driving situation—from a clear road on a sunny day to a tire blowout in a snowstorm—without endangering anyone and without the need to go outside the DMV office.
If state departments of motor vehicles do opt to shift to simulation for the applied portion of their testing requirements, they can, Kearney says, be guided by the experience of educational institutions, for whom it is becoming an increasingly indispensable instructional resource. "In addition to easing the needs of industry," says Kearney, "the growing adoption of simulator training by community colleges, vocational schools, and other secondary education venues offers the nation's young people—nearly 65% of whom will not go on to earn a college degree(6)—an easily available path to employment in a stable, respected, and reasonably well-paid profession. For them, and for the U.S. economy, which relies on trucking for over 70% of all shipping, it is an answer to a deepening need."
About Advanced Training Systems LLC:
Advanced Training Systems (ATS) is a technology and engineering firm that has revolutionized the design and manufacture of high-tech simulator systems to improve training for operators of all types of motor-powered vehicles. ATS, the holder of multiple patents in its field, is dedicated to providing cutting-edge adaptive training at an affordable cost to all involved in the transportation industry, resulting in more qualified drivers/operators and safer streets. For more information, visit http://www.atstrainingsystems.com.
1. Tully, Jake. "Trucking Through A Community College Program, truckdrivingjobs.com/blog/840/trucking-through-a-community-college-program.html.
2. "Helping Youth Choose Truck Driving as a Career." Fleet Clean, 28 Oct. 2020, fleetcleanusa.com/helping-youth-choose-truck-driving-as-a-career/.
3. "11 Incredible Facts about the $700 Billion US Trucking Industry." Business Insider, Business Insider, markets.businessinsider.com/news/stocks/trucking-industry-facts-us-truckers-2019-5-1028248577.
4. Della Rosa, Jeff. "Driver Shortage Persists amid COVID-19 Pandemic, Mixed Freight Demand." Talk Business & Politics, 7 Dec. 2020, talkbusiness.net/2020/12/driver-shortage-persists-amid-covid-19-pandemic-mixed-freight-demand/.
5. "Tomorrow's Truckers." American Trucking Associations, trucking.org/tomorrows-truckers.
6. Bustamante, Jaleesa. "Percentage of High School Graduates That Go to College [2021]." EducationData, 15 Jan. 2021, educationdata.org/high-school-graduates-who-go-to-college.
7. "Economics and Industry Data." American Trucking Associations, trucking.org/economics-and-industry-data.