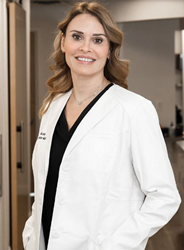 PRINCETON, N.J. (PRWEB) May 29, 2020
Nicole Schrader, MD, FACS, announces the reopening of Schrader Plastic Surgery with COVID-19 specific protocols in place. These protocols include limited office time, universal PPE use, enhanced disinfectant procedures including instrument cleaning and sanitation of exam rooms between patients.
Prior to their appointments, clients undergo extensive screening and receive detailed protocol instructions. Patients are requested to arrive alone. Minor children and those requiring a caretaker may be accompanied by one adult. Forehead scanners will check patient temperatures prior to entering the office. Appointments for anyone with a temperature will be rescheduled. COVID-19 tests are not conducted at Schrader Plastic Surgery. Anyone with symptoms compatible with the virus, or who has a test pending, must reschedule his or her appointment. This office does not treat patients with the virus. Because of the increased risk for individuals over the age of 60 and those with medical conditions like heart disease, diabetes, cancer, high blood pressure, chronic diseases of the kidneys, liver, and lungs, and auto-immune problems, the office has implemented guidelines for scheduling visits.
Low-risk patients will be scheduled as usual with special procedures in place.
Medium risk patients may schedule appointments at the discretion of the provider.
High-risk patients will be advised to carefully consider whether or not an office visit is necessary, especially if they are 80 years old or older. Telemedicine visits are recommended for these high-risk patients to determine their level of need for an office visit. The provider reserves the right to reschedule high-risk patients as a health and safety precaution.
Virtual check-in and check-out has been implemented. Most patients will check in from the security of their cars. This includes using their cell phones to relay their symptoms and reasons for their visits, essentially eliminating the waiting room. Most patients will be escorted directly from their vehicles to exam rooms. The number of patients seen hourly has been reduced in order to maintain proper distancing guidelines and to reduce public interaction within the office.
All staff will be completely outfitted with PPE (personal protection equipment). That includes masks, eye protection, gloves, and where appropriate, protective gowns. Everyone on the staff is screened for fever and other symptoms of the virus two times a day. Face masks or facial coverings are required of all patients as long as they are on the premises. Patients will be asked to wear PPE, clean their hands, and make use of the provided hand sanitizer. Office cleaning adheres to COVID-19 specific protocols. Prior to patients entering them, exam rooms are thoroughly disinfected using recommended, high-level disinfectants. Door handles, countertops, chairs, and keyboards are all included in the disinfectant procedure. Telemedicine will remain available for all patients who have concerns about in-office visits and for those who do not require in-office visits.
Dr. Schrader is a double board-certified physician specializing in facial plastic reconstructive surgery, otolaryngology (ear, nose, and throat), and head/neck surgery in Princeton, NJ. Her expertise includes minimally invasive facial surgery, soft-tissue reconstruction, rhinoplasty, and rejuvenation of the aging face. Dr. Schrader has more than 20 years of experience with 13+ years in private practice.
To schedule a virtual or in-office appointment, please call our office at 609-279-0009. You can also use the online form to contact our office. For more information on the specific services offered by Dr. Schrader and her staff at Schrader Plastic Surgery, please visit our website.