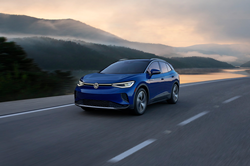 LINCOLN, Neb. (PRWEB) May 30, 2021
Volkswagen ID.4 EV was voted as the World Car of the Year 2021 by 93 international journalists from 28 countries. As a result, the long-awaited electric car with impressive features is now available for pre-booking at Schworer Volkswagen.
A smartphone-like infotainment system with touch-sensitive controls and a tech-focused interior marks a new era in mobility. The Volkswagen ID.4 EV offers functionality along with bold exteriors. Clean lines with aerodynamic elements will make heads turn on the roads of Lincoln. The inside of this SUV has maximized cabin space due to the absence of a combustion engine. The MEB platform provides an elongated wheelbase with short overhangs and is designed with all passengers in mind and not just the driver.
The Volkswagen ID.4 EV is available in two trims, Pro and 1st Edition trims, instead of the traditional S, SE, and SEL hierarchy. However, the 2021 ID.4 1st Edition, starting at $43,995, received overwhelming interest and sold out. Therefore, the 2021 ID.4 Pro starting at $39,995, is still available for purchase.
The Volkswagen ID.4 is packed with a rear electric motor that produces up to 201 horsepower and a range of 310 miles. This electric vehicle comes with an L1 charging cable. However, the customers can purchase an L2 wall box charger so that it be charged at home.
One can reserve the 2021 Volkswagen ID.4 EV Pro Edition by visiting the Schworer Volkswagen Website. Once the order is placed, the concerned person can view and customize the configurations as desired. In addition, the My ID.4 Reservation enables its buyers to track the status of the booked vehicle. Finally, when the model is available for pickup, the buyer can finish the finance formalities and bring the ride home. Interested shoppers can learn more about the reservations at schworervolkswagen.com or by calling the dealership at 877-407-3531.