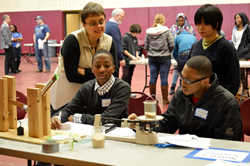 This has been an amazing start for the Science Olympiad Philadelphia Urban Initiative. Clearly there is a hunger for hands-on learning in science, technology, engineering and math.
Philadelphia, PA (PRWEB) April 03, 2014
On Saturday, April 5th, approximately 50 Philadelphia high school and middle school students will gather at String Theory High School in Center City to compete in the first-ever Urban Schools Philadelphia Science Olympiad.
Science Olympiad is the country's premier team-based science competition for middle and high school students. This volunteer organization of committed current and former teachers, students, and experts from companies, universities and research laboratories has been in operation for 30 years.
These first 50 students in the Philadelphia Urban Initiative will be joining more than 240,000 students nationwide who are competing on more than 6,000 teams – all working from the same collection of events.
"The point is not just to learn STEM skills, but to also learn how to apply and use them in ways that challenge the mind, but also allow kids to have a little fun," says K. Scott Leggett, Coordinator of the Urban Schools Initiative.
In all, students will compete in 10 events during the day. Some will be showing off the vehicles they constructed and time them so they can scream down the track, yet stop at an exact point. They will compete to see if their rotary powered devices can safely carry an egg to earth intact, and test the knowledge they have learned about extraterrestrial water and ice using information scientists generated from NASA's Mars Rover and Galileo missions.
In February of this year, the University of the Sciences hosted a "Build It, Study It, Do It" Day on their campus. Students and teachers from schools in Montgomery County who have been Pennsylvania State Champions and have also placed among the top three in U.S. National Science Olympiad events, shared their experience, insights and building techniques with students who are just getting started in Philadelphia. University students and administrators also showed great support for the event.
"This has been an amazing start for the Science Olympiad Philadelphia Urban Initiative," says Leggett. "Clearly there is a hunger for hands-on learning in science, technology, engineering and math. Teachers and students here have accepted the challenge to learn more about STEM sciences and to enjoy them as they do. We expect more schools to sign up shortly."