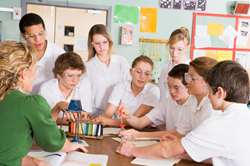 Using biotechnology resources from our range is a great way to make learning engaging and memorable.
Nantwich, Cheshire (PRWEB UK) 22 April 2014
Out now, the Better Equipped Summer term brochure sees the size of the Edvotek Biotechnology range double and introduces new products such as 'Mystery of the Crooked Cell' and 'M12 Electrophoresis Apparatus'. The range which already features resources such as 'What Does DNA Look Like',  'DNA Fingerprinting Made simple' as well as fundamental pieces of equipment such as PCR machines and UV Transilluminators'.
 
There's no doubt that many students possess an inherent interest in the study of DNA, in part fuelled by programmes such as C.S.I.  but there's also a belief by some that it's 'out of reach' science for them. This new larger range of biotechnology equipment is aimed to help bring the subject of DNA to life, make it engaging, easier to understand and of course affordable science supplies for schools. "Using biotechnology resources from our range is a great way to make learning engaging and memorable," said a company spokesperson. Our kits take the complex subject of DNA for example and apply the science in a way that helps students to absorb the information, and appreciate its use and value in the real world. There are plenty of studies that suggest children find it easier to learn when they are doing something practical, and biotechnology products and kits are the perfect way to do this. By expanding the range, Better Equipped hope that in some small way they can help convert students interest in the subject of biotechnology & DNA into learning and understanding of the subject.
 
About Better Equipped
Better Equipped are a UK based science and food technology equipment supplier to schools, colleges and industry. They provide quality science and food technology equipment at better prices enabling their customers to be Better Equipped for less. If you would like more information about Better Equipped or about any of their products then please contact them on Freephone 0800 970 7142 or email sales(at)betterequipped(dot)co(dot)uk.