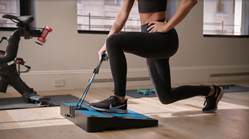 After creating the COBA Board, we had it tested to ensure it was not only safe, but effective at targeting the hard-to-build glutes and hamstrings. We were proven right.
BEDFORD, N.Y. (PRWEB) November 13, 2019
The COBA board launched on Kickstarter today providing a simple solution based on biomechanical research that proves that the right reverse incline makes all the difference in the effectiveness of a workout – regardless of fitness level.
The COBA Board platform is built on a 7-degree incline with a toe bar to make sure that the body is positioned correctly with a user's weight back on the heels and in a counterbalanced position - a patented and proven concept. The body is positioned in a way that is harder to counteract, taking mental guesswork out of the posture.
Because most people sit on their glutes all day, the neural pathways to activate these muscles are weakened. This problem is called glute amnesia and it is an epidemic. It is extremely difficult to activate glute and hamstring muscles – and women in particular often end up building their quads, which is not ideal. After finding other training solutions lacking, the COBA Board was created to provide a total glute solution to shape, tone, lift, sculpt and strengthen the posterior muscles more effectively and efficiently.
The COBA Board concept is scientifically proven to optimize glute workouts. Dr. Scott Lynn Ph.D. Associate Professor Biomechanics Department of Kinesiology at California State University, Fullerton conducted an independent study and found that performing squats, lunges and deadlifts on the COBA Board maximized glute and hamstring muscle activation while reducing emphasis and stress on the knees and quadriceps.
"Throughout my career, I've worked with various populations from elite athletes, like NHL hockey players and PGA golfers, to older adults with osteoarthritis in their knees," said Lynn, who is also Co-Director for the Center for Sports Performance in the School of Kinesiology. "I think that anyone could benefit from using the COBA Board."
"I created the COBA Board after a sports injury had me searching for a safe way to strength train my legs without straining my knees," said Jim Duffy, CEO of Pure Glutes. "After creating the COBA Board, we had it tested to ensure it was not only safe, but effective at targeting the hard-to-build glutes and hamstrings. We were proven right."
The COBA Board is a revolutionary new glute trainer with functionality to perform the eight premier glute exercises: squats, lunges, deadlifts, glute bridges, hip thrusts, kickbacks, donkey kicks and hip abductors. All of the exercises performed at the gym using a multitude of weight systems can now be done on this one, easy-to-use device.
Form meets function as the COBA Board is commercial grade in construction and can handle 100s of pounds of force. Weighing only 12 pounds, it's compact and easy to store. The platform is made from high-quality, injection molded plastic on a 7-degree incline with a thick cushion for knees. With three bands providing customizable levels of resistance and a variety of ways to use them, the possibilities with COBA are nearly endless. A workout library and accompanying app will allow users to focus on areas that they want to improve.
Retailing for $189, the COBA Board is available at exclusive discounts (up to 45% off) when pre-ordering at pr.go2.fund/coba. It's time to lean back to lean into your workout.
About Pure Glutes
Founded by Jim Duffy, former Division I hockey player, along with his daughter Jordan, a lifestyle editor and fitness buff, Pure Glutes LLC developed, tested and patented a more effective way to build a better butt with the revolutionary COBA Counterbalance Glute Trainer (COBA Board). The COBA Board's patented counterbalance and functional resistance help to shape, tone, and build difficult to activate glute muscles faster, safer and more effectively than traditional methods.
For more information, visit ​https://producthype.co/coba/​.