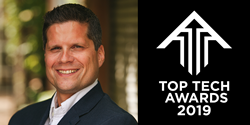 "At Scientist.com, we believe technology will be the most disruptive and innovative driving force behind medical research in the coming decades."—Chris Petersen, Scientist.com CTO and Founder
SOLANA BEACH, Calif. (PRWEB) April 04, 2019
Scientist.com, the online marketplace for outsourced research, announced today that Chris Petersen, its Chief Technology Officer (CTO) and Founder, has been awarded the Cox Business Exemplary Award as part of San Diego's 2019 "Top Tech Awards". Presented by Cox Business, the Top Tech Awards celebrate excellence among the San Diego business community's technology executives. Petersen was selected for this special award by his peers from a field of over 400 highly-qualified applicants.
"Because it saves time and money and promotes innovation, the Scientist.com marketplace Chris built has the potential to solve the most challenging problem facing the pharmaceutical industry today - how to create more drugs while spending less money," said Kevin Lustig, PhD, Scientist.com CEO and Founder. "Chris' outstanding work and perseverance have gone a long way toward realizing the company's mission to help cure all human diseases by 2050."
As a 2014 Top Tech Award honoree and judge (up until 2018), Petersen is an expert in developing online solutions to complex scientific processes. Under his leadership, Scientist.com has grown from a small start-up into one of America's fastest-growing and most innovative private companies. In August 2018, Scientist.com ranked #9 on Inc. magazine's annual list of the 5000 fastest growing private companies in the US and #2 on the San Diego Business Journal's annual list of fast-growing local companies. In 2018, the company also ranked #12 on Entrepreneur magazine's E360 list of America's Best Companies. Petersen has personally written the software code underlying much of the Scientist.com marketplace, and he oversees all aspects of data privacy, data security and data integrity of the company's entire IT platform.
"I am so thankful for the opportunity to pursue a career I love while making a difference in people's lives," said Chris Petersen, Scientist.com CTO and Founder. "At Scientist.com, we believe technology will be the most disruptive and innovative driving force behind medical research in the coming decades."
Chris and other Top Tech Award honorees will be recognized on May 16, 2019 at a reception at the Del Mar Fairgrounds.
About Scientist.com
Scientist.com is the world's leading marketplace for outsourced R&D. The marketplace simplifies R&D sourcing, saving time and money, reducing risk and providing access to the latest innovative tools and technologies. Scientist.com operates private enterprise marketplaces for most of the world's major pharmaceutical companies, the Biotechnology Innovation Organization (BIO) and the US National Institutes of Health (NIH). Since its founding in 2007, Scientist.com has raised $32 million from 5AM Ventures, Leerink Transformation Partners and Heritage Provider Network among others. Visit scientist.com to learn more.
Join Scientist.com on social media: YouTube, LinkedIn, Twitter, Facebook and Instagram.
About Top Tech Awards San Diego
The Top Tech Awards honor outstanding information technology executives who work in San Diego, as nominated by their peers and clients. Nominees and honorees who meet the specified criteria, as determined by an independent panel of judges, are recognized at the Top Tech Exec Awards each May. For more information visit toptechawards.com.
Media Contact:
Sean Preci
Director of Communications
+1 858 455-1300 ext. 401