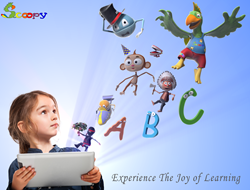 By modifying the way we teach through advanced technologies, we have a better chance of intriguing children and thus attracting their attention to learning English
New Jersey, United States & Tel Aviv, Israel (PRWEB) May 01, 2014
International company, Refael Productions, crowdfunding capital to develop virtual educational platform that integrates high end technology with new educational methods. Scoopy TV aims to create high quality education and entertainment platform for kids that teaches English in an effective and engaging way.
"Children live in a world that provides constant virtual stimulation, and that immersion in technology is abruptly stopped when they enter the classroom and begin studying" CEO Ofira Levi says. "Our goal is to use technology to engage and entertain children while teaching them English."
To bridge this gap, the internationally acclaimed team of designers, 3D animators and producers at Refael Productions created the character of Scoopy to serve as both friend and instructor to kids. Scoopy is a 3D parrot that lives in a virtual and futuristic world and interacts with kids in a series of 4-6 minutes videos.
Scoopy relies on and emphasizes the importance of technology throughout the videos and seamlessly integrates from the real world to the futuristic virtual world in which he lives with the help of a real life girl that controls and commands him through her tablet. The reason for the importance of technology within the Scoopy videos is to provide children with a relatable figure that, like them, lives in a world of tablets, PC's, smartphones and other smart devices.
Scoopy teaches by incorporating educational methods such as repetition and engagement with technology, childish humor and entertainment.
"By modifying the way we teach through advanced technologies, we have a better chance of intriguing children and thus attracting their attention to learning English," says Lily Goldstein, the linguistic and pedagogical instructor that is behind the educational plan of Scoopy.TV. "Beyond teaching children English, Scoopy also teaches valuable life skills and important values such as the important of nutrition, non-violence, playing sports and more," adds CEO Ofira Levy.
Refael Productions seeks not only to bridge the gap between education and technology, but to make their platform available to kids from all over the world. That is why Refael Productions is raising capital on the popular fundraising site Indiegogo. By using a social crowdfunding platform, Refael Productions hopes to raise enough capital to create Scoopy TV – a virtual television station that will function as a safe zone for children from all over the world that want to learn English in a fun and positive environment.
About Refael Productions
Refael Productions is an internationally recognized production company catering worldwide brands for almost 10 years. Refael has a leading 3D animation studio and worldwide acting, graphic design, animation and voiceover talents. Scoopy TV is the leading independent project of Refael Productions.
For more information, visit: http://www.indiegogo.com/projects/scoopy-tv-experience-the-joy-of-learning