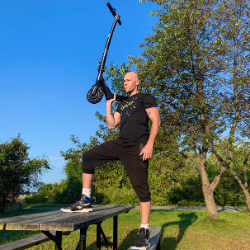 Delavicci states, "Scooter for Unity is about bringing positive change. It's an initiative reminding us, we are united as one race, travel as one race- the human race."
NEW YORK (PRWEB) October 02, 2020
Human initiatives begin with our communities, a group of like-minded individuals who provide a sense of belonging to something greater than ourselves. It is our collective values that bring a commitment to a cause by creating a shared voice that spans beyond us. "Scooter For Unity" is a collective of scooter fans who will ride together in support of unity in the community and our New York City servicemen and women led by Sergio Delavicci, actor in John Wick 3 and Power, humanitarian and philanthropist along with brand partner, Wire a nationwide electric scooter subscription service.
The campaign will hit the streets of New York City peacefully championing unity while sharing the love of scooters to transport our united initiatives in solidarity and simultaneously doing our small part to decrease carbon footprint on our planet. Riders will gather at New York City's Battery Pl. and West St. (At the Pier A North River Building) on October 7, 2020 (if rain/ snow, alternative date October 8, 2020) and ride together on the Hudson River Greenway Bike Path ending at West 57th Street.
Delavicci states, "Scooter for Unity is about bringing positive change. It's an initiative reminding us, we are united as one race, travel as one race- the human race. Our younger generation is looking to us as examples of how to lead while our older generations are the keeper of wisdom. By bringing together generations we are mobilizing our next generation for success to change the world."
Our commitment to unity is an ongoing goal to ascertain regardless of what community you are part of. It is a global language that supersedes countries, cultures, and generations in a language without words wired for the human race to champion around.
ABOUT SERGIO DELAVICCI
Sergio Delavicci is an actor, motivational speaker, professional athlete, model, philanthropist, and humanitarian known for his role in films such as John Wick 3, Creed 2, The Post, You Were Never Really Here, TV Series Power, Quantico, and more.
In his ongoing humanitarian efforts, Delavicci is passionate about giving back to the community working with at-risk youths, prisons, women empowerment groups, and motivating the next generation. He is also involved in the "Real Men Read Initiative," where prominent men are invited
to read at NYC schools to promote literacy. Sergio's giving back initiatives extend to working closely with organizations such as Project Avary, an organization that meets the unique emotional needs of children with a parent who is incarcerated, Bowery Mission, and The Relief Program helping those who are in need.
His efforts in giving back to the community have awarded him a Certificate of Merit (NY Assembly), Proclamation of Achievement (Senator of NY Kevin S. Parker), Ambassador of Goodwill (International Film Festival of Manhattan), Maurice Talington Hero Award, and more.
For additional information about Sergio Delavicci visit thechigroup.co/sergiodelavicci or follow Sergio on Instagram @ruffryder_84
To register for Scooter For Unity visit Eventbrite
ABOUT WIRE
Wire is an innovative micro-mobility company that launched the nation's first electric scooter subscription service giving affordable access to your very own personal electric scooter with all-inclusive, worry-free maintenance. Wire's portable, industrial-grade electric scooters are equipped with the latest smart IoT, GPS, telemetry, and predictive maintenance, and are currently available in all 50 states and countries around the world. Wire focuses on social impact and human-centered design to solve challenges in urban mobility aspiring to bring mass adoption to alternative forms of transportation that are affordable, stress-reducing, and eco-friendly reducing the reliance on fossil fuels.
For more information about Wire visit wirerides.com or follow them on Instagram @wirerides