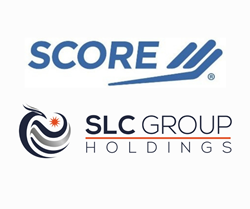 "This collaboration will allow our two organizations to share information, resources and business proficiency in new ways that will elevate and empower existing small businesses as well as budding entrepreneurs seeking professional guidance, so they can go out on their own."
WASHINGTON (PRWEB) April 09, 2019
SCORE, the nation's largest network of volunteer, expert business mentors and a resource partner of the U.S. Small Business Administration, announced today a new collaboration with SLC Group Holdings that will serve entrepreneurs and aspiring business owners through educational opportunities, marketing, financing and firsthand experience pitching products and new business ventures.
Leveraging SLC Group Holdings' experience scouting and elevating talented entrepreneurs, as well as SCORE's history as a resource for mentoring, workshops and business tools, the partnership will provide jointly-held training forums and webinars; networking events; and opportunities to pitch new products to business experts for clients of both organizations.
"For decades, SCORE has played a key role in educating and empowering innovators and entrepreneurs to meet their full potential through access to educational forums and mentoring programs. Partnering with this important nonprofit will ensure that aspiring small business owners can leverage the educational resources of SCORE as well as the networks, funding and practical expertise of SLC and its relationships," said Sandy Cleary, SLC Group Holdings Founder & CEO.
"We advise all of the entrepreneurs that come through our doors at SLC to get a SCORE mentor. Not only is it a free service, but SCORE mentors are experts in their fields. They've been in the trenches, too, and they have a wealth of knowledge to share with anyone looking to start, manage or grow their business," Sandy continues.
SCORE is equally excited about the new partnership.
"We are proud to partner with SLC Group Holdings to give our clients access to the expertise and services of a leading small business creator in the United States," said Ken Yancey, CEO of SCORE. "This collaboration will allow our two organizations to share information, resources and business proficiency in new ways that will elevate and empower existing small businesses as well as budding entrepreneurs seeking professional guidance, so they can go out on their own."