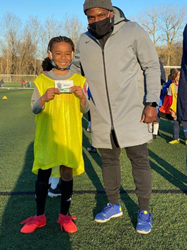 "High-quality instruction can start a player on the road to a long and successful career in a sport that is booming in the US and around the world."
ST. LOUIS (PRWEB) April 09, 2021
For the third year and 6th consecutive season, St. Louis Scott Gallagher (SLSG) is bringing its world-class coaching staff into the city of St. Louis, for the St. Louis Scott Gallagher City Program, which kicks off its 2021 season this spring, and community members are encouraged to get involved. Approximately 80 children participate each year.
The SLSG City Program was founded to bring soccer to inner city kids, ages 6-14. The program is completely free for participating families, who receive instruction and equipment donated by members of the club and the community at large. Kids in the program receive cleats, shin guards, socks, uniforms, balls—everything they need to play, including great coaches that want them to succeed.
"Of all the benefits we try to bring to the kids, the coaching is the most important," said Ken Godat, Youth Director for SLSG. "High-quality instruction can start a player on the road to a long and successful career in a sport that is booming in the US and around the world. But it also gives them immediate benefits for today -- exercise, focus, a work-ethic, a sense of belonging, increased confidence, and knowing that there are adults outside of their home that care about them and want them to succeed -- these things are priceless to a child."
Program organizers work with several inner-city schools to determine needs in the communities they serve. This targeted approach ensures they are meeting players where they are and serving them well. Fall and spring seasons run for 15 weeks and include twice a week practices with games on weekends. Practices and games are held in the city in conjunction with six community agencies, including the program partner Mathews-Dickey Boys and Girls Club.
The SLSG City Program is 100% privately funded. In addition to community donations, funding for the City Program comes from the SLSG Upper 90- Outreach Program. Then, if participants in the City Program move into the club, their participation is made possible through the Living Legacy Fund, a scholarship and charitable initiative that started to honor former SLSG players who have passed away. The fund provides full scholarships to up to 80 players per year.
A core mission of the program is to serve any interested youth and never allow a lack of funds to prevent a child from accessing club-level soccer experiences. Ongoing drives within SLSG bring a steady supply of cleats and equipment that fulfills the needs of the city program and sends surplus supplies to other soccer initiatives around the world, including Haiti, Zambia, and Honduras.
"It is an honor to have the opportunity to serve kids from the communities where I spent most of my formative years. The sport we love so much does not always make it to underserved areas," said Brocklon Chapman, SLSG City Program Director. "The St. Louis Scott Gallagher City program introduces the game to kids who wouldn't normally have training of this magnitude; it also helps bridge a huge activity gap between communities."
St. Louis Scott Gallagher encourages members of the community, especially SLSG alumni and their families, to donate gently used, clean soccer socks, shin guards, cleats, soccer balls, pop up goals, cones, soccer shorts, and practice jerseys in all sizes for the program by dropping items off at the SLSG office at Worldwide Technology Soccer Park in Fenton.
If you'd like to donate funds to the SLSG Living Legacy Fund, visit http://www.slsgsoccer.com.
About St. Louis Scott Gallagher
St. Louis Scott Gallagher (SLSG) is on a mission to positively impact players on and off the field. The "Five Shield Values" of unity, humility, passion, respect, and tradition form the foundation on which the organization develops excellent, well-rounded soccer players that become leaders in their communities. Today's SLSG organization is the result of merging the talents and resources of three of St. Louis's premier soccer clubs in 2008 - St. Louis Soccer Club, Scott Gallagher Soccer Club, and Metro United Soccer Club. The organization serves players from entry level all the way through to the professional ranks with over 250 teams from recreational to highly competitive levels, including a relationship with the Disabled Athlete Sports Association (DASA) Power Soccer team, the City Program, USL League, and a Women's League. SLSG has emerged as a national leader in youth soccer, building on a proud history of field success and a culture of excellence. For more information, visit http://www.slsgsoccer.com.