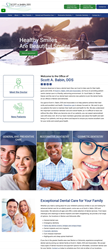 "The Orthophos S 3D is an incredible tool that helps minimize the cost of dental treatment, reduces treatment time and enhances the end results of dental implant surgery," says Dr. Scott A. Babin
EDMONDS, Wash. (PRWEB) November 19, 2021
The skilled professionals at Scott A. Babin, DDS and Associates deliver a wide range of services for the entire family, keeping smiles healthy and looking beautiful, with general, restorative, cosmetic and sedation dentistry. They strive to provide the very best in advanced, cutting-edge technology for safe, highly-efficient oral health care. The practice now offers patients the advanced DentsplySirona's Orthophos S 3D imaging system to help accurately plan dental implant treatment and other oral surgery procedures. With the advanced 3D Orthophos S system, the dentists at this clinic can now utilize a clear, detailed view of each patient's mouth and skull bone structure, bone density, tissues and nerves to enhance the already high standard of dental care they provide.
Dental implants are the most advanced replacement for missing teeth but have historically proven to be inconvenient with trips to different specialty clinics. With the Orthophos S, 3D imaging can be completed in our office in minutes, streamlining the implant process. Cone beam technology is at the heart of the Orthophos S and takes hundreds of pictures that are used to compile an exact 3D image of the inner mechanisms of the face and jaw. Dentists are able to zoom in on specific areas and view them from alternate angles. There are numerous benefits that the Orthophos S 3D system provides, including assessing the quality of the jawbone where the implant will be placed, determining where nerves are located, measuring the density of the jawbone, pinpointing the most effective placement for implants, planning of the complete surgical procedure in advance, precisely deciding on the appropriate size and type of implants and giving the view of the exact orientation and position of each tooth.
"The Orthophos S 3D is an incredible tool that helps minimize the cost of dental treatment, reduces treatment time and enhances the end results of dental implant surgery," says Dr. Scott A. Babin
More about Scott A. Babin, DDS and Associates:
Scott A. Babin, DDS and Associates offers a wide selection of advanced dental care services in a relaxed and family-friendly environment. Their offices in Edmonds and Renton are equipped with innovative dental technology to provide the best dental care for patients. They can handle all types of preventive and routine dental care needs, as well as specialized treatments. The highly-skilled dentists and staff at this practice provide a wide range of options under one roof, including dental cleanings, porcelain veneers, implants, teeth whitening and advanced procedures.
To find out more about the services offered at Scott A. Babin, DDS and Associates, please call (425)-775-1766 for the Edmonds location or (425)-227-7788 for the Renton clinic. Visit the website http://www.scottbabindds.com for more information or to schedule an appointment.