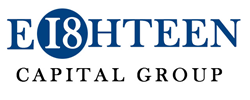 We would encourage anyone who can to consider making a donation to any of our amazing Kansas City charities.
KANSAS CITY, Mo. (PRWEB) October 05, 2020
Scott Asner and Michael Gortenburg – two Kansas City area investors and Founding Principals of Eighteen Capital Group (18CG) – are calling for renewed widespread support for local charities and organizations operating in the Kansas City area.
Scott Asner, a longtime Kansas City resident, has been involved with the Kaw Valley Behavioral Health Center in Kansas City for nearly 40 years. Asner is a proud advocate for its noble mission to provide mental and behavioral healthcare services to children, teens, and adults in Kansas, Missouri, Nebraska, Kentucky and West Virginia.
The organization offers a multitude of ways to donate and get involved. Interested parties can learn more about these options here: https://www.kvc.org/donate/
Asner would also like to cite an organization for which he previously served as Executive Board Vice President: the Menorah Heritage Foundation (MHF). Formed through by the merger of the Jewish Heritage Foundation and the Menorah Legacy Foundation in 2016, MHF provides support for organizations and meaningful programs that significantly improve the health and quality of life for Kansas City area residents.
Michael Gortenburg, Scott Asner's Kansas City partner, also wishes to draw special attention to a charity that he has been involved with for years: Wayside Waifs. Wayside Waifs is a non-profit dedicated to providing loving families with adoptable dogs, cats, and other small animals. Today, Wayside Waifs stands as Kansas City's largest no-kill animal shelter and pet adoption center. The non-profit accepts donations, but also regularly allows volunteers to join in and care for the animals.
"We have all had an extremely tough year -- especially those in our community who already experience challenges without the added difficulties of a global pandemic," said Scott Asner, Founding Principal of Kansas City's Eighteen Capital Group. "We would encourage anyone who can to consider making a donation to any of our amazing Kansas City charities."
"Even just a small donation to one of these incredible charities can help change someone's life in a powerful way," added Michael Gortenburg. "If you don't have the financial means to make a donation, you can always dedicate some free time to help give back to the community. A little love can go a long way."
About Scott Asner
Scott Asner is a longstanding Kansas City, MO investment manager and Founding Principal of Eighteen Capital Group (18CG). Having earned his bachelor's degree in economics at the University of Pennsylvania and his law degree from Stanford University, Scott practiced law for two decades before turning to the investment management profession. As a Principal of 18CG, Scott specializes in diverse real estate investments and leads a core team of 25 employees from 18CG's corporate headquarters in Leawood, Kansas. Scott oversees the private equity-financed acquisition of properties nationwide –more than 7,000 apartment units at 33 properties in 15 states. He is a long-term holder of most of these properties.
About Michael Gortenburg
Michael Gortenburg is a Founding Principal of Eighteen Capital Group (18CG) and owner of more than 100 investment entities–a diverse portfolio focusing primarily on multifamily housing units. In addition to overseeing all corporate and individual property functions for 18CG, Michael is involved in a number of other operational businesses, such as digital media and software companies.