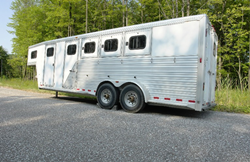 SCOTTSDALE, Ariz. (PRWEB) May 27, 2021
Although the Airstream of Scottsdale dealership focuses on selling new and used travel trailers, many other products are available as well. Many of these products are traded to the dealership when customers purchase travel trailers. Details about the products available at the dealership can be found below.
An outboard boat engine is one of the many miscellaneous products at the dealership. The engine was built in 2017 and is rated to generate 115 horsepower. Fuel for the engine must be four-stroke fuel. A significant dealer discount of $4,526 brings the price down to $7,900.
A 2019 Sundowner Stockman horse trailer is also for sale at the dealership. A sizable $5,400 dealer discount brings the price for this trailer down to $11,597. The exterior of this trailer is natural metal, making it look similar to an Airstream product without being made by Airstream.
Customers seeking a large cargo trailer have an option in the 2021 Sundowner 24BP Stacker Trailer on the lot at Airstream of Scottsdale. The exterior of this trailer is white and rides on three axles. Shoppers are encouraged to call the dealership to learn the price of this trailer.
Customers in the market for a boat have an option at the dealership. The location has a 2019 Monterey Bowrider 224S boat for sale. The boat comes with a 4.5L Mercury engine that can produce up to 250 horsepower. It is painted with a blue exterior and includes a blue sunshade.
Shoppers can inquire further about these products by visiting the dealership at 15000 North Hayden Road, Scottsdale, Arizona, 85260, by calling (480) 467-3737 or contacting a representative through the site's chat function.