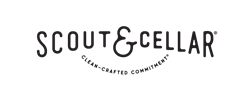 "Expanding our relationship with WineDirect to provide best-in-class delivery services for all of our customers and independent consultants will serve as a catalyst to elevate the consumer experience..." - Sarah Shadonix, Founder and CEO of Scout & Cellar
FARMERS BRANCH, Texas (PRWEB) January 05, 2023
Scout & Cellar, the creator of the Clean-Crafted Commitment®, is pleased to announce their fulfillment partnership with WineDirect as of January 2, 2023. WineDirect -- the leader in direct-to-consumer services for wineries around the world -- is providing fulfillment operations services to Scout & Cellar in Scout & Cellar's Texas warehouse and fulfillment facilities.
"WineDirect is thrilled to partner with Scout & Cellar for this next chapter of their operation," explains Joe Waechter, CEO of WineDirect. "We are looking forward to using our industry-leading fulfillment technology and expertise to ensure an incredible fulfillment experience, driving consultant and consumer confidence, while empowering Scout & Cellar to focus on their core competencies and high-quality growth."
Scout & Cellar and WineDirect have been partners since August 2020, with WineDirect fulfilling some of Scout & Cellar's orders from their Ohio and Napa Valley locations since that time. The partnership between Scout & Cellar and WineDirect is industry-leading and will transform Scout & Cellar's business through a best-in-class customer order experience powered by WineDirect's expertise, market position and superior warehouse management and order management systems.
"Scout & Cellar is a company that is powered by people, for people," says Sarah Shadonix, Founder and CEO of Scout & Cellar. "Expanding our relationship with WineDirect to provide best-in-class delivery services for all of our customers and independent consultants will serve as a catalyst to elevate the consumer experience, drive brand loyalty, elevate consumer-consciousness, and support future growth. It will also allow us to focus on what we do best – sourcing and producing delicious products backed by our Clean-Crafted Commitment®- and advancing our mission to become carbon-neutral by 2028 and a household name by 2030."
As part of the agreement, all of Scout & Cellar's fulfillment operations employees accepted employment offers with WineDirect. The partnership with WineDirect supports an overall strategy by Scout & Cellar for long-term growth through product diversification and accessibility. Last year, Scout & Cellar ventured into brick-and-mortar retail with Scout Wild™ (a national wholesale brand now available at select retailers) while the rest of their product portfolio remains available online. Additionally, Scout & Cellar diversified their primarily wine-based product portfolio to include a coffee line called Scouting Grounds Roasting Company™. These recent expansions are part of Scout & Cellar's efforts to be a competitive force in the food and beverage market and broaden the reach and impact of the Clean-Crafted Commitment®.
For more information about Scout & Cellar, visit the Website, Facebook, and Instagram.
About Scout & Cellar
Founded in 2017, Scout & Cellar is a Clean-Crafted™, woman-founded and led winery that has created a higher standard for how wine is made by creating a more authentic, sustainable, and delicious approach to the wine-making process. With its expansion into retail and coffee, Scout & Cellar has broadened the reach and impact of its Clean-Crafted Commitment®, which eliminates the need for anything artificial on the farm or throughout the production process. Scout & Cellar products are available online at ScoutandCellar.com where you can shop directly or with the help of a diverse network of Independent Consultants who share a passion for the standard by which our products are made.
About WineDirect
WineDirect is the leader in winery direct-to-consumer (DTC) services including ecommerce, point-of-sale, wine club, fulfillment, and marketplace distribution solutions. In an era of rapidly increasing consumer expectations, our unique end-to-end platform enables wineries to develop, manage and grow successful DTC programs.  Serving more than 2,000 wineries worldwide, WineDirect is headquartered in Napa Valley with offices in Paso Robles, CA; Santa Maria, CA; Sherwood, OR; Glenwillow, OH; Vancouver, BC; and McLaren Vale, Australia. Learn more about how we are helping wineries succeed with DTC at http://www.winedirect.com.