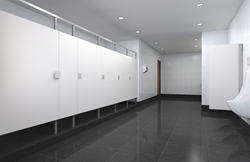 Combining the hinge and post system design with the unparalleled performance of the HDPE material offers the commercial specification market everything it wants in one package.—David Casal, Scranton Products
Scranton, PA (PRWEB) May 17, 2017
Scranton Products, a world leader in restroom partitions and lockers, announces a new CEU course that educates architects on how to achieve the ultimate in privacy and sleek aesthetics for bathroom partitions, with more hygienic materials.
Sponsored by Scranton Products and hosted by Architectural Record Magazine, "The New High Privacy Toilet Compartment" course explains how to remove sight lines with an HDPE hinge and post bathroom enclosure. Participants can earn 1 AIA LU/HSW; 1 GBCI CE Hour; 0.1 IDCEC CEU; 0.1 IACET CEU and 1 LFA CEU, with credits accepted by ASID, IIDA and IDC.
Scranton Products developed the course with the assertion that straight-edged "pilaster" designs traditionally have see-through gaps on the sides, which make patrons uncomfortable. Many also lack design aesthetics, often harbor bacteria and are easily defaced by scratches and graffiti. The new course reveals that there are now solutions to all of these issues.
"Participants will learn how a new hinge and post system and angle-cut doors eliminate those unsettling gaps and improves privacy for occupants in the bathroom stall," said David Casal, Director of Sales Administration, Scranton Products. "It also discusses material options such as solid HDPE with color throughout, that is naturally resistant to the mold, mildew, rust, and bacteria that can occur in damp bathroom environments." The material also resists scratches and graffiti.
Concealed hinges, in both inswing or outswing configurations also enhance the clean aesthetics. The toilet compartments feature more than 30 colors and textures, in varied length doors and panels for added privacy. The angle cuts and lengths also create a sleeker, more modern bathroom solution.
The new system is 100% recyclable and features recycled content, though it can be specified with 100 % post-consumer material.
"Combining the hinge and post system design with the unparalleled performance of the HDPE material offers the commercial specification market everything it wants in one package—improved privacy for occupants, great looks, and the support of important sustainable design criteria," adds Casal.
Learn more about the Architectural Record New High Privacy Toilet Compartment CEU course at https://continuingeducation.bnpmedia.com/courses/scranton-products/the-new-high-privacy-toilet-compartment/ Or visit http://www.scrantonproducts.com.
About Scranton Products:
For more than 25 years our premium brands have led the plastic partitions market setting new benchmarks for the industry in quality and delivery. In fact, Scranton Products is the only manufacturer of plastic partitions that ships in as little as five days. Our well-known brands, including Hiny Hiders®, Resistall™ and Tufftec®, feature the most durable, low maintenance and best looking partitions, lockers and industrial sheet products in the industry. They won't dent, rust or need painting, and because they have color throughout, delamination is not a factor. For more information, visit http://www.scrantonproducts.com