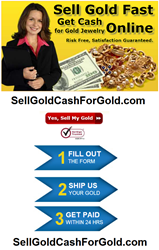 Now is the time to sell old Gold pieces for extra Christmas Cash
Orlando, FL (PRWEB) September 28, 2013
"As the cost of gold continues to spiral upwards, people have less and less cash on hand causing them to think of ways to cash in their old gold jewelry. People wonder how easy it is to sell their gold pieces, which depends entirely upon the kind of place they try to sell their gold to. The local pawn shops will typically pay less than an online scrap gold buyer. The reason for this, is the online buyer of scrap gold collects much larger amounts of scrap gold then the local pawn shop dealer, so they get a better price when they re-sell this scrap gold allowing them to offer a higher price when purchasing scrap gold," the report explains.
Gold is a precious metal, and always brings a higher price than other precious metals, however, selling scrap gold will not bring full retail price as it does in the store. The market for raw gold works like any other commodities trading. When selling scrap gold for cash, certain factors need to be kept in mind:
When preparing to sell scrap gold pieces, the karat weight and value of the scrap gold needs to be determined first. The accurate weight of the gold and the karats that the gold pieces contain will determine the amount of cash exchanged for the gold pieces.
Next the karat weight and value needs to be converted in to the current market price, in order to determine the scrap value of the gold jewelry pieces.
The scrap gold report says, "Once the karat weight and value have been determined, and the market price is set, the gold jewelry pieces can be appraised at a local pawn shop or local gold scrap buyer who will provide a quote for the gold jewelry pieces for cash. Then many people will obtain an online quote, because the online scrap gold buyers pay a higher price for scrap gold. Sell broken, old chains, and gold jewelry pieces for extra cash just in time for the Christmas season."
About NowGold
NowGold, located in Orlando, FL, has been buying and selling gold since 1988. Lee Heavener, CEO NowGold, currently manages the company helping clients' nationwide sell their gold. The company motto is risk-free, satisfaction guaranteed - safe, secure and insured. A licensed and insured Precious Metals Dealer, they hold a Better Business Bureau A+ rating and are registered as a trusted company with VeriSign. They are rated #1 with the consumer advocate site http://OnlineGoldScam.com.
For more information visit NowGold at
http://www.sellgoldcashforgold.com
http://www.Facebook.com/NowGold
1-800-584-SELL
1-800-584-7355