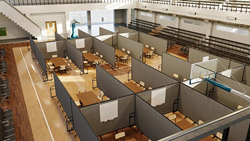 "Screenflex dividers are allowing us at St. John and Paul to have full-five days of in-person instruction." - Anthony Scotti, St. John and Paul School.
LAKE ZURICH, Ill. (PRWEB) November 17, 2020
COVID-19 has shaken up the world as we know it. For Screenflex Portable Partitions, necessity has proven to be the mother of invention. Screenflex has been manufacturing portable room dividers that reduce noise, have tackable fabric, and fold accordion-style for more than 30 years. Because of this versatility, Screenflex has found their way into schools, churches, and other facilities to divide their space since the company began. While the uses for Screenflex products have always varied from place to place, none were quite so unique as during the 2020 pandemic. In this time, the need for room dividers shifted from not only partitioning off space for events or gatherings but they also became a staple for social distancing as well. With this new need for keeping appropriate space between people as a safety measure, Screenflex has been working extremely hard to help organizations limit contagion with their portable dividers.
Screenflex offers a variety of different products that have been helping people with this need as the pandemic endures. As you have likely noticed, many public-facing facilities have plexiglass barriers as a shield between customers and staff. Screenflex Clear Dividers are freestanding plexiglass panels that offer patrons excellent protection from germs spreading while also not cluttering up desk space. In addition to clear dividers, hospitals have also been using Screenflex privacy screens to create patient overflow space since overcrowding has been such a significant concern. In general, room dividers are becoming a part of the new normal for hospitals in everyday life. At the beginning of the school year this fall, another common use for Screenflex partitions has been for social distancing between staff/students as well. A teacher in New York even said that his school could reopen for in-person learning because of Screenflex.
"Screenflex dividers are allowing us at St. John and Paul to have full-five days of in-person instruction." - Anthony Scotti, St. John and Paul School.
The Screenflex team understands the responsibility to deliver on this new demand and get customers their orders in a timely manner. Not only has Screenflex hired some new employees in a time where many companies were letting people go, but they have added overtime shifts as well. In addition to the extra staffing, Screenflex has also added precautions to prevent COVID from spreading within the facility. All employees have been required to wear a mask and take their temperature as they enter the building. Extra sanitation of the facility was implemented with daily scheduled cleanings of all surfaces and door handles and twice-weekly deep cleanings. The goal is to be not only efficient in manufacturing/ shipping the product but also to keep the employees safe in the meantime.
By adding these extra steps and measures, Screenflex is helping social distancing efforts in the 2020 pandemic.
Screenflex is the #1 provider of high-quality portable room dividers and continues to be a trusted supplier among facility managers. To find out more information, please visit https://www.screenflex.com/ or call 855-960-6020.