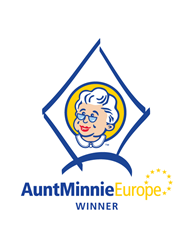 NIJMEGEN, Netherlands (PRWEB) February 20, 2019
ScreenPoint Medical is honoured to be winner of the Best New Radiology Vendor in the inaugural EuroMinnie awards 2019. According to the announcement by Philip Ward, Editor in Chief of AuntMinnieEurope.com, "So many of the great achievements in radiology have their roots in Europe, so it's only fitting that we now have the EuroMinnies as a vehicle to recognize the European imaging community's many accomplishments."
"The team at ScreenPoint Medical is very proud and honoured to have been recognized and receive this important award," said Co-Founder and CEO, Nico Karssemeijer. "The EuroMinnies are a prestigious award and we are very grateful to AuntMinnieEurope.com and their expert panel for selecting us".
At ECR 2019 in Vienna, ScreenPoint Medical (Expo X1 – Booth #120) will present the latest version of Transpara™ Artificial Intelligence (AI) system, which processes 2D, 3D and combo mammography exams and is integrated in the workstations of an increasing number of OEM partners.
ScreenPoint Medical's Transpara™ is the first AI application for detecting breast cancer in screening mammograms to gain 510(k) Clearance from the FDA, based on its unique functionality which interactively provides support for detection and diagnosis. The Clearance was supported by the results of a multi-reader, multi-case Reader Study, which demonstrated that radiologists significantly improved detection accuracy when using Transpara for decision support without increasing reading times.
About the EuroMinnie awards:
The EuroMinnies awards enable Europeans to acknowledge the contributions of their peers to the field of radiology. EuroMinnies candidates are nominated by the 29,000-plus members of AuntMinnieEurope.com, with winners chosen by a panel of experts after two rounds of voting. The EuroMinnies are based on the Minnies, the successful awards event held for the past 19 years by AuntMinnieEurope.com's sister site, AuntMinnie.com.
About ScreenPoint Medical BV:
ScreenPoint Medical develops image analysis technology for automated reading of mammograms and digital breast tomosynthesis exams, exploiting Big Data, Deep Learning and the latest developments in Artificial Intelligence. ScreenPoint Medical was founded in 2014 by Nico Karssemeijer and Michael Brady, two experts in breast imaging, machine learning, computer vision, and computer-aided detection. The main office is in Nijmegen, The Netherlands. For more information, please contact info@screenpointmed.com