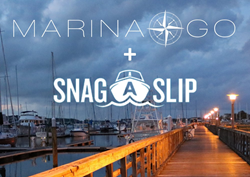 The collaboration with MARINAGO Office, continues our vision by integrating the two best in class marina software technology companies
FORT LAUDERDALE, Fla. (PRWEB) January 14, 2020
Scribble Software Inc., a leading provider of business management solutions for the marina industry, announced their collaboration with Snag-A-Slip Inc. in order to provide a comprehensive and unified marina management solution. The collaborative goal of the two companies combines the next-generation cloud-based marina management solution, MARINAGO Office, with the market-leading online boat slip reservation platform Snag-A-Slip, which includes long-term, short-term, and instant bookings.
MARINAGO Office and Snag-A-Slip work together to create a real-time seamless solution for both the marina operator as well as the boater. As cloud-based platforms utilizing a Software as a Service (SaaS) model, the MARINAGO Office and Snag-A-Slip combination leverages the latest technology and user interface (UI) techniques providing the best in class marina and property management, including customer facing online reservations.
The MARINAGO Office Suite is a multi-phase project designed to completely manage all aspects of marinas. The collaboration with Snag-A-Slip expands the MARINAGO Office feature set to include a seamless booking platform providing boaters with the ability to discover marinas, better plan, check availability and reserve boat slip rentals in real-time.
"We are very excited to announce the collaboration with Snag-A-Slip," says Vance Young, Director of Technology at Scribble Software. "This expands our goal of extending the network of cloud services within the MARINAGO Office solution by combining with a leading online reservations platform which provides a single unified solution."
"Snag-A-Slip's mission is to make booking slips seamless and as easy as possible for both boaters and marinas. The collaboration with MARINAGO Office, continues our vision by integrating the two best in class marina software technology companies" said Adam Zilberbaum, President of Snag-A-Slip."
About Scribble Software Inc.
Scribble Software Inc. is a leading provider of comprehensive management software solutions for the marina and recreational industry. Always on the cutting edge, Scribble Software now offers the MARINAGO Office Suite, the next generation of cloud-based marina management solutions as well as the MarinaOffice Suite of Solutions, a comprehensive enterprise level desktop management solution for all marina and resort sizes. With a vision of empowering marina staff and marina customers, our diverse portfolio of solutions consists of a variety of cloud services including: E-Signature contracts/documents, Online Bill Pay, Paperless Billing, and a number of mobile apps including: point-of-sale, point-of-sale fuel, Meterwalk, and Dockwalk.
About Snag-A-Slip.
Snag-A-Slip, the leading online boat slip reservation service, serves boaters across the U.S. and internationally. Snag-A-Slip aims to showcase its marina partners and connect transient boaters with available slips more easily. Website and mobile app users can explore marinas by region, city or marina name and then search for slip availability based on travel dates, length, beam, draw and power requirements. There are no booking fees associated with the service and the Snag-A-Slip mobile app is available for free download on the Apple App Store and Google Play Store.