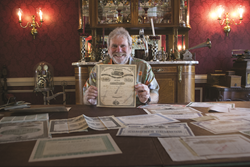 Authentic Stock and Bond Certificates Make Great Collectibles and Gifts
FAIRFAX, Va. (PRWEB) December 31, 2019
Scripophily.com®, the Internet's largest buyer and seller of collectible stock and bond certificates is celebrating 140 years of continuous old stock research service and 24 years on the Internet. Scripophily.com opened its virtual doors in 1996 with a mission to use the Internet to transform the hobby of collecting stock and bond certificates as the fastest, easiest, and most enjoyable shopping experience possible. While our customer base and product offerings have grown considerably since our early days, we still maintain our founding commitment to customer satisfaction and the delivery of an educational product and an enjoyable shopping experience.
To show our appreciation to our loyal customers, we are offering a 20% discount on our already discounted prices. To receive the discount, simply enter "stocks7" in the coupon code field when checking out online.
Scripophily (scrip-ah-fil-ly) is the name of the hobby of collecting old stock and bond certificates. Certificate values range from a few dollars to more than $500,000 for the most unique and rare items. Tens of thousands of scripophily buyers worldwide include casual collectors, corporate archives, business executives, museums and serious collectors. Due to the computer age, more and more stock and bonds are issued electronically which means fewer paper certificates are being issued. As a result, demand for paper certificates is increasing while supply is decreasing.
Scripophily.com has had items on loan for display in museums around the world. Scripophily has been featured on CNBC, USA Today, Bloomberg, Associated Press, Reuters, Nightline, Today Show, Baltimore Sun, and Washington Post and in many other media publications. Scripophily.com offers the World's #1 old stock research service at OldCompany.com and offers high resolution scans for publications. Scripophily.com has over 16,500 selections on its website.
Scripophily.com/RM Smythe®, Old Company Research Service, founding member of the Old Stock Exchange, is the publisher to all material published by the Marvyn Scudders Manuals, the Robert D. Fisher Manuals, R.M. Smythe Stock Research Service, and the Herzog & Co., Inc. obsolete research services. The research services have been performed continuously for since 1880. Our company is the leading provider of authentic stock and bond certificates, autographs, and old company stock research services.
Scripophily.com and Old Company Research Services was founded by Bob Kerstein. Bob is a CPA and CGMA, and has more than 40 years of senior management CFO experience in the Cellular, Cable TV, Satellite, Internet, Professional Sports and Entertainment Industries. Bob designed and implement the first NBA and NHL team websites while working as Chief Information Officer working for the Vancouver Canucks and Vancouver Grizzlies in 1995.
Bob is also the President of the Professional Scripophily Traders Association (PSTA) and co-founder of ScripophilyUSA,com, and Management Committee Member and Public Relations Director for the International Bond and Share Society.
For more information on Scripophily please visit http://www.scripophily.com, https://www.oldcompany.com, https://www.scripophily.net, https://rm-smythe.com, or call 1-703-787-3552
###