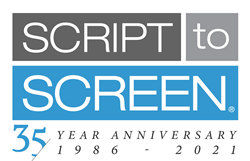 Influencer marketing is at the top of every smart company's priority list. There is no more skillful professional in this discipline than Luke Slota.
LOS ANGELES (PRWEB) November 15, 2021
In the latest in a series of "ThoughtLeaderThursday" webinars hosted by integrated Direct Response/Direct-to-Consumer agency Script to Screen, its Co-Founder and Executive Creative Director Ken Kerry will join with Havas Edge SVP Luke Slota to lead: Under the Influence: Top Influencer Marketing Strategies for 2022 on Thursday, November 18, at 2:00pm ET/ 11:00am PT.
Influencer marketing is a vital tool that brands must utilize in order to stay relevant in today's fast-paced business climate. By allocating media spend to influencer marketing, companies can target niche consumer segments that have been unavailable in the past. Kerry and Slota will examine the importance of the role influencer marketing plays in increasing brand awareness, trust, and purchase intent.
In this webinar, you will learn:

Why and how it's important to find the right influencer for your brand
How influencers help create brand awareness
How to target unique segments of potential customers through influencer marketing
The differences between micro and macro influencers and how to use each effectively
To register for this complimentary event: https://www.scripttoscreen.com/register-for-under-the-influence-top-influencer-marketing-strategies-for-2022/
Slota is the SVP of YouTube and Influencer Marketing at Havas Edge. He is responsible for overseeing all strategy and implementation of the influencer marketing channel. Slota has been successful in scaling dozens of small test campaigns into evergreen acquisition channels spending tens of millions of dollars annually. He brings varied and valuable experience to his role with nearly a decade of time spent in the Influencer space.
Kerry said: "Influencer marketing is at the top of every smart company's priority list. There is no more skillful professional in this discipline than Luke Slota. If you're interested in mastering this talent so important to building customer loyalty, please join our upcoming webinar to learn his influencer marketing secrets."
Kerry serves as Executive Creative Director and Executive Producer at Script to Screen, and his hands-on involvement ensures the highest production values are combined with solid Direct Response principles. He co-founded Script to Screen in 1986, along with his wife, Barbara, CEO. Script to Screen has produced more long-form infomercials for more marketers than any other company.
About Script to Screen
Established in 1986, Script to Screen is an industry-leading Integrated Direct Response Agency, delivering a single, end-to-end solution for Direct-to-Consumer sales, lead generation, web traffic and conversions, and retail lift. Specializing in a strategic combination of cost-effective customer acquisition and brand building, Script to Screen has successfully collaborated with entrepreneurs and big brands alike to expand revenue channels and build businesses. Clients such as AAA, Amazon, Bare Escentuals, Beachbody, Blink, Bose, Church & Dwight, Cleva, Comcast, Conair, Ehealthinsurance, Esteé Lauder, Generac, Guthy-Renker, Hoover, Keurig, LifeLock, L'Oréal, Nescafé, Netspend, Nugenix, Nutrisystem, Omaha Steaks, philosophy, SharkNinja, Snow Joe, SoClean, Tria Beauty, Pfizer, and Wahl are among the major companies that have turned to Script to Screen for creative strategy, messaging and production in all channels in both offline and online of their DRTV campaigns.