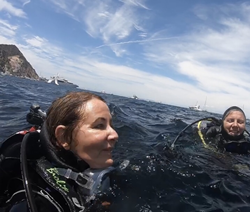 "I am grateful to PADI for producing a scuba event that promotes sororal connections in this truly bonding and inspiring way. It will be a very happy day when the word "sororal" is used as frequently as "fraternal" and PADI is leading the charge on such change." - Melinda Herndon, Scuba.com
IRVINE, Calif. (PRWEB) July 18, 2019
I am woman see me scuba! Leave it to the ladies to put together the largest day of organized diving in the world. PADI Women's Dive Day (PWDD) aims to welcome women of all ages into the inclusive sport of diving, as well as honor women's contribution to it. There were over 850 PWDD events in 2018, and over 1000 may take place this year.
PWDD's goal is to create a new generation of women divers, as well as further the careers of current scuba divers. It's a day of celebration, learning, charity, and inclusivity. The end result is the empowerment of women divers of all ages from all countries.
Scuba.com (http://www.scuba.com) owner Melinda Herndon has seen first hand the transformation a PADI certification can make to a woman's life, "For every woman I have seen get certified, I have seen a woman face her biggest fears, overcome odds, and become a stronger and more deeply fulfilled human being". Perhaps her most memorable transformation was that of a woman who was attacked by a Great White shark attack – and later became a shark advocate (http://www.run4sharks.org).
In honor and celebration Melinda and Scuba.com will host a WOMEN ONLY guided dive (all divers must be scuba certified with c-cards) at beautiful Casino Point on Catalina Island, which has experienced a surge of wildlife following great conservation efforts. After the dive, there will be a scavenger hunt. The guided tour package includes ferry tickets from Newport Beach to Avalon, Catalina Island and back. Gear rental is not included, but can be rented on the island.
To dive deeper into PADI Women's Dive Day and participate in some true female underwater bonding, please visit https://www.scuba.com/scubagear/womensdiveday or call 1-800-34-SCUBA. Please note all attendees must be certified divers and bring their C-cards.
About Scuba.com
Since the inception of its website in 1996, http://www.scuba.com has operated the world's largest and most visited scuba diving equipment website. Scuba.com's professionally trained diving instructors are favorites of executives, celebrities, and families who purchase their gear and learn to scuba dive with this award-winning operation. For more information, please visit https://www.scuba.com. We also invite you to visit https://www.facebook.com/scuba.com and https://twitter.com/scubacom.