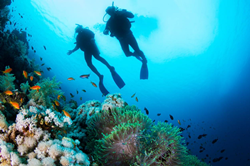 For over 30 years, Leisure Pro has been the go-to Scuba Store for divers of all experience levels
OVERLAND PARK, Kan. (PRWEB) December 30, 2020
TopConsumerReviews.com once again gave its best-in-class 5-star rating to Leisure Pro, a trusted Scuba Store offering gear for purchase online.
Scuba Stores offer everything a person needs to dive, from fins and suits to regulators and beyond. Some may even have lessons available, helping people get certified before going on a dive while on vacation or just for fun. But, what can shoppers do if there's no Scuba Store nearby? Dive shops aren't exactly commonplace, especially in locations far from the shipwrecks, tropical fish, and other amazing things that can be seen beneath the water's surface. As with most products today, the best selection of scuba gear is online: the top brands, newest technologies, and familiar favorites needed for a successful dive. Online Scuba Stores have it all — and better yet, many of them offer free shipping as well.
"For over 30 years, Leisure Pro has been the go-to Scuba Store for divers of all experience levels," confirmed Brian Dolezal of TopConsumerReviews.com, LLC. "You just won't find any other online retailer with a better selection of wetsuits, regulators and other gear: Leisure Pro typically has hundreds to choose from, all priced to match or beat their rivals, and with free shipping on almost everything. This is also one of the only Scuba Stores we've found that sells used equipment, which can definitely save you some money when buying gear that doesn't need to be brand-new. Leisure Pro stands out with a 60-day return policy for a full refund, or up to 120 days if you're making an exchange or just want store credit. Divers say that Leisure Pro has excellent customer service, demonstrated by their 'Pressure-Free Fit Guarantee' on all sized scuba gear like suits, fins and BCDs. For all of these reasons and more, we're pleased to give Leisure Pro our highest recommendation among Scuba Stores in 2020."
To find out more about Leisure Pro and other online Scuba Stores, including reviews and comparison rankings, please visit the Scuba Stores category of TopConsumerReviews.com at https://www.topconsumerreviews.com/best-scuba-stores/.
About Leisure Pro
As the number one store for scuba diving and snorkeling equipment, Leisure Pro has thousands of satisfied customers who swear by their service. Because most of their employees are divers, the Leisure Pro site offers easy and professional shopping, choosing from a vast selection of brand-name diving essentials and accessories. Leisure Pro's buyers travel the world to find the best products at the lowest prices possible, backing their inventory with a best price guarantee and the best warranty in the business.
About TopConsumerReviews.com
TopConsumerReviews.com, LLC is a leading provider of reviews and rankings for thousands of consumer products and services. From Scuba Stores to Sunglasses and Swimming Pool Supplies, TopConsumerReviews.com delivers in-depth product evaluations in order to make purchasing decisions easier.