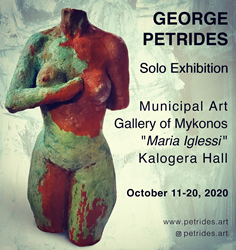 MYKONOS, Greece (PRWEB) August 12, 2020
Figurative sculptor George Petrides will launch his next gallery show at the Municipal Art Gallery on the island of Mykonos. The exhibition will open on October 11, 2020 and run until October 20, 2020.
The show will include a selection of Petrides' contemporary, abstracted figurative sculptures, in sizes ranging from a few inches to over lifesize. Born and partially raised in Greece, Petrides is steeped in ancient Greek sculpture and the later works that were influenced by it in Italy and France. He is concerned with the human experience in the form of the body and the head, exploring the beauty and the imperfection of people and of life.
Petrides' creative process is of his own invention: he generally starts with a live model (sometimes in a pose inspired by a historical work) and creates the first form using natural clay. Then he reworks it using contemporary materials: epoxy clays, metals, acids to rust the metals, dyes, paint. At times, he breaks the piece apart and reassembles it into a new configuration, or he strips the surfaces and begins the process again.
The works will be exhibited in Kalogera Hall of the Maria Iglessi. The building, one of three which house the Municipal Art Gallery of Mykonos, was built during the second half of the 19th century. It was donated to the Municipality of Mykonos by the prominent Iglessi family in order to be the first public clinic and operated as such for approximately fifty years. Also, the first Public Library of Mykonos was situated on the ground floor for several years. Later, Kalogera Hall became part of the Municipal Art Gallery of Mykonos, which hosts exhibitions of premiere contemporary Greek and foreign artists selected by committee.
For additional information please contact shannon@petrides.art.
About George Petrides
George Petrides learned to make art by taking drawing, painting and sculpture classes, off and on, over twenty years at the New York Studio School. He has also studied in Paris, in the same rooms as Giacometti, Calder, Noguchi, Bourgeois. His first successful career was in finance, but he gradually transitioned to making art full time, and is now a successful professional artist exhibiting in New York, Athens and Mykonos. His work can be seen on his website (petrides.art) and his Instagram account (instagram.com/petrides.art/).