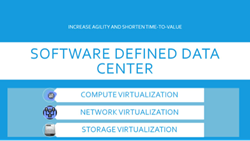 …SDDC will provide tangible business benefits for enterprise customers with improved agility and reduced operational costs.
Princeton, NJ (PRWEB) November 26, 2014
WFT has announced a new service which involves migrating existing data centers to a Software Defined Data Center (SDDC) architecture for enterprise customers based on EMC/VMware infrastructure. This service delivers productivity and time-to-service improvements to enterprises with highly virtualized data centers.
Enterprise customers are tasked every day to find ways to improve their business agility and speed of innovation, increase their service quality to both internal and external customers, improve their business continuity and minimize downtime, and ultimately drive down their total cost of ownership (e.g., both CapEx and OpEx).
WFT strongly believes this can be achieved by leveraging solutions that provide standardization, visualization, orchestration, and most importantly automation. Automation will be a key factor to help achieve lower operating costs, increased productivity (agility), higher availability and reliability (quality), and better performance (speed).
The major forces driving enterprise customers are the innovations in processing power and memory, high demand for resource pooling, and manual/custom networking configurations. Enterprise customers that are already running solutions in a virtualized environment or are in the process of virtualization are looking forward to gaining a better competitive advantage within their data center, by extending intelligent and integrated management platforms through SDDC for better automation.
Ganesh Radhakrishnan, CEO of WFT Cloud (Wharfedale Technologies) stated that technologies like SDDC will provide tangible business benefits for enterprise customers with improved agility and reduced operational costs.
EMC and VMware provide key products that enable abstraction, pooling and allow provisioning of resources as a set of services. These features combined with automation make SDDC a reality for customers. WFT is executing proof of concept projects involving network virtualization products like NSX and software defined storage products like EMC ViPR. The goal is to integrate these products with compute virtualization and VMware's management and orchestration products like VCAC to achieve a true Software Define Data Center.
WFT, a pioneer for SAP infrastructure delivery for decades, strongly believes that SDDC concept will enable customers to benefit from a higher level of automation for their enterprise landscapes, including those with applications from SAP and other vendors.
WFT Cloud, being the first SAP-certified Cloud Services partner, is actively working towards migrating existing data center to SDDC for enterprise landscapes. WFT Cloud implemented server virtualization seven years ago to reap the benefits of consolidation. The next phase in the roadmap for SDDC was network virtualization, which was achieved with implementation of Software Defined Networking, which currently provides the core routing, VPN and firewall functionalities for the instances of SAP software in WFT Cloud. The next logical step is storage virtualization, which is currently in the process of being rolled out. WFT Cloud gained valuable experience in deploying this architecture internally for SAP solution landscapes and intends to use this knowledge to solve customer's business problems and provide automated service provisioning capabilities.
About Wharfedale Technologies Inc.
Wharfedale Technologies Inc. (WFT Cloud) is a leading technology consulting firm specializing in infrastructure integrations and services for enterprise solutions, as well as private/public/hybrid cloud solutions. As an enterprise-certified provider of cloud and hosting services, Wharfedale also offers enterprise solutions around high availability, disaster recovery, advanced sizing for virtualization, backup/recovery integration, systems refresh automation and landscape optimization.
For more information on Wharfedale and WFT Cloud services, please visit http://www.WFTCloud.com or call us at (888) 533-3113.
###
SAP and all SAP logos are trademarks or registered trademarks of SAP AG in Germany and in several other countries. EMC® is a registered trademark of EMC Corporation in the United States and other countries. All other product and service names mentioned are the trademarks of their respective companies.