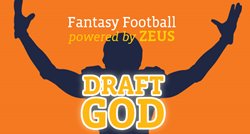 We take seemingly disconnected data and connect the dots.
BRISTOL, Pa. (PRWEB) August 09, 2019
In a slight departure from Maintenance, Repair, and Operations (MRO) and MRO data management, SDI -- a trailblazer in MRO digital supply chain solutions and technology – today introduced DRAFT GOD, Fantasy Football powered by ZEUS.
ZEUS provides industrial manufacturers, universities, and other asset/facility intensive organizations Supreme Power over their Digital Supply Chain. The cornerstone of the platform, which includes modules for Data and Analytics, eProcurement, Storeroom Technology, and Inventory management, is a dynamic marketplace enabled by AI-automated item categorization, intelligent part recognition and identification, and buying automation through the use of bot technology.
SDI Automation Manager, John Delligatti, created DRAFT GOD as a fun way to show the endless potential of the ZEUS platform. "It's not much different than what we do for our clients. We take seemingly disconnected data and connect the dots for them. That way they can see how much they're spending, with whom, and on what, very clearly," said Delligatti. "So, I asked myself what if SDI's ZEUS MRO Analytics engine was fed fantasy football data? Could it be easy for everybody to understand football data and compare multiple players at a moment's notice with no technical experience required? That would make data fun AND easy!" Read more on SDI's blog, MRO Connections.
While the DRAFT GOD app on ZEUS resides within SDI, the company has created a contest for one lucky contestant to win a week-long license to use DRAFT GOD, that crucial week before Fantasy Football leagues make their draft picks. To enter, visit http://www2.sdi.com/DraftGod.
About SDI
SDI is a Digital Supply Chain Solutions firm with a focused practice in Indirect Materials, MRO, and Industrial/Facilities Technology. We go to market through an innovative As-a-Service offering, delivering custom solutions and results designed to improve our client's MRO supply chain performance.
Using a custom suite of products, services and tools, SDI's platform coordinates, aligns and optimizes every step of the digital supply chain. Lower costs, smarter inventories and more reliable production are all natural results from a more connected MRO supply chain. To learn more visit: http://www.sdi.com or contact info@sdi.com
Media Contact: Patrizio Cernetti, VP Procurement, SDI, Inc: 215-633-1916