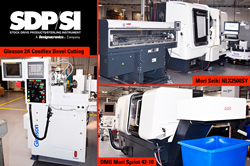 "We continue to increase efficiency, cut lead times and reduce cost by investing in new systems and machinery."
HICKSVILLE, N.Y. (PRWEB) August 20, 2019
Stock Drive Products/Sterling Instrument (SDP/SI), a leader in providing mechanical based design, engineering, and manufacturing for power transmission and motion control applications has expanded its high-volume production capabilities with the addition of a Mori Seiki NLX2500SY, Sprint 42-10, Miyano BNA-42GTY and Gleason CNC. These machines are now part of the new 96,000 sq. ft. facility, located in Hicksville, NY, resulting in a significant increase in productivity.
The new DMG Mori Sprint 42-10 is a versatile automatic lathe equipped with a SWISSTYPEkit which enables both long and short turning on one machine. Shorter set up times and machining 84% faster than other machines have resulted in a substantial increase in capacity. Producing a 1-3/8 inch diameter gear including deburring in less time, SDP/SI is generating high-quality gears in greater numbers than ever before. Currently dedicated to producing gears for a medical application, where volume levels have increased dramatically, this machine opens doors to many new opportunities.
SDP/SI also invested in retrofitting an existing Gleason 2A Coniflex bevel cutting machine into a CNC bevel gear cutting machine. The resulting CNC Bevel Gear Cutting Machine, rebuilt with all new parts, is producing higher quality gears in less time. "Virtually a brand new machine it has significantly increased our capacity," says Sue Anderson, Sr. Director of Operations," allowing us to accommodate the larger volume of bevel gears required by OEMs today." "The CNC bevel cutting machine is already delivering benefits, decreased set up time and a 72% decrease in machining time.
"Previously our largest spindle capacity was 3 inches," says Anderson, "with the addition of the Mori Seiki NLX2500SY we can now run barstock 4 inches thru spindle, doubling our current large diameter capacity, while increasing throughput." "We continue to increase efficiency, cut lead times and reduce cost by investing in new systems and machinery." The new Mori Seiki offers high accuracy and high productivity with hobbing capability.
Already running 24/7 unattended is another new machine recently acquired the Miyano BNA-42GTY automatic CNC lathe. The BNA-42GTY is designed for accuracy and fast cycle times, the exclusive control system cuts non-cutting time by 27%, further reducing cycle time. This automatic lathe has increased output dramatically, giving SDP/SI the ability to machine high-quality components 52% faster than before.
"Those that know us as only a supplier of small mechanical components should take another look – we are so much more," says Robert Kufner, CEO, and President. "Producing components and assemblies at levels never previously imagined we are providing engineering and customized solutions for a wide range of applications." "Today we partner with many OEMs worldwide, prototyping, improving designs and precision machining gears and other drive components to meet the ever-increasing need."
About Stock Drive Products/Sterling Instrument (SDP/SI) a Designatronics company
SDP/SI, ISO 9001:2015 + AS9100D certified, provides mechanical based design, engineering, and manufacturing services for critical motion control and small power transmission applications, including aerospace, defense, medical, robotics, and industrial automation. Over 87,000 standard inch and metric small mechanical components are available for a fast turnaround. SDP/SI specializes in high-quality machined parts, molded components, synchronous belt drives, precision gears, and subassemblies, offering customized design. For more information go to: http://www.sdp-si.com.