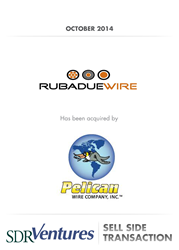 Rubadue Wire is a great addition to the Pelican Wire family
Denver (PRWEB) November 03, 2014
SDR Ventures, a Colorado-based investment banking firm, is pleased to announce that Rubadue Wire Company ("Rubadue Wire" or "The Company") has completed a sale to Pelican Wire Company ("Pelican Wire"). SDR Ventures served as advisor to Rubadue Wire throughout the transaction process.
Launched in 1977 by Edwin Rubadue, Rubadue Wire, based in Greeley, Colorado, is a pioneer in the wire and cable industry having created the world's first triple insulated wire. The Company has since expanded into a variety of multi-layer insulated wires and other value-added solutions in the wire and cable industry.
Rubadue Wire has seen significant growth over the past few years, built upon its well-recognized brand, niche expertise, and quality standards. The Company has earned national recognition for its innovation and distinguished contribution to the field of wire and cable.
"We are excited to be partnering with a long-time industry player with a great track record in Pelican Wire," said Sue Welsh, CEO and President of Rubadue Wire. "We appreciate the work SDR did to complete this transaction."
Pelican Wire is based in Naples, Florida and is a custom manufacturer of bare resistance, floor heating, insulated resistance wire and thermocouple wire. Pelican Wire is employee owned and this transaction represents the company's first acquisition.
"Rubadue Wire is a great addition to the Pelican Wire family," said Ted Bill, CEO and President of Pelican Wire. "Sue and the team at Rubadue Wire are the type of team we look to partner with. We look forward to what the future holds for both companies." Pelican Wire will continue to operate the two businesses separately, with Rubadue Wire maintaining its brand, facility, and management team in Greeley, CO.
"This partnership will bring together two top players in a growing niche," Andy Limes, Founding Partner and Principal at SDR Ventures, said, "we love to see two growing companies like Rubadue Wire and Pelican Wire make a deal that is great for both sides. SDR is privileged to have been part of this transaction and work with two great companies."
About SDR Ventures
SDR Ventures is a boutique investment bank serving privately held business owners of companies with values up to $300 million. Operating beyond the confines of a traditional investment bank, SDR is reinventing the way business owners approach the market, offering transaction advisory, capital formation, strategic advisory and performance exchange services. Registered representatives of SDR Ventures offer securities through GVC Capital LLC, a FINRA member securities broker-dealer.