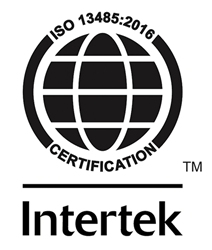 "The completion of the ISO 13485 certification will continue to build confidence with our key partners that we are committed to the medical industry," said Michael Szymanski, CEO of SEACOMP.
CARLSBAD, Calif. (PRWEB) April 10, 2020
SEACOMP recently received its certificate of registration for ISO 13485:2016 from Intertek. This international standard pertains to the quality management systems in place specific to medical devices. It is designed to show that the organizational practices of the company meet customer and regulatory requirements consistently at the highest level of quality.
The certificate states that the SEACOMP manufacturing facility's management system conforms to the requirements of ISO 13485. It is applicable to:

The design, development and manufacture of power supplies for medical devices
The manufacture of stimulators and heart rate monitors
The manufacture of PCBAs for medical devices
Michael Szymanski, CEO of SEACOMP, states, "At SEACOMP, our vision is to 'improve the world we live in by making great ideas into great products.' Our emergence as a key supplier to the medical industry is at the forefront of that vision."
Szymanski continues, "Across the past 5 quarters, more than a third of our new programs have been for medical products. The completion of the ISO 13485 certification this last month will continue to build confidence with our key partners that we are committed to the industry. I am incredibly proud of our amazing team for this achievement."
SEACOMP worked with global accrediting body Intertek to ensure their quality management system fulfills the regulations set by the medical device industry. The audit process was then completed this past December.
It was a smooth and successful audit due to the dedicated team led by SEACOMP Quality Manager, Andy Liu. "Our fantastic team worked to make it happen - we are committed to providing better products and services," comments Liu.
The strict regulatory requirements set by the medical device industry affects every step of the product's lifecycle - from development to distribution and beyond. ISO 13485:2016 certification demonstrates that SEACOMP is committed to fulfilling those stringent requirements.
"SEACOMP endeavors not simply to meet our clients expectations but to exceed them," adds John MacVicar, VP Manufacturing. "As a result, we are truly a 'quality-oriented organization' and we work hard to improve our level of service each year. We use our quality management system, certified not only to ISO 9001:2015 but also to ISO 13485:2016, as a key driver to enable our dedicated team for ongoing process improvement and commitment to the customer."
MacVicar expressed, "We want to make satisfied customers even happier with their next project."
--
About SEACOMP
SEACOMP (https://www.seacomp.com) helps innovators bring their products to the global marketplace. Comprised of three divisions, SEACOMP specializes in electronics manufacturing, design engineering, and electronic components for products in consumer, industrial, and medical industries. SEACOMP is headquartered in Carlsbad, California, USA with global offices in Hong Kong, Dong Guan, London, and Hamburg. Learn more about SEACOMP through this video.
--
SEACOMP DIVISIONS
MH MFG
MH Manufacturing helps design, develop, and manufacture electronic devices for industrial, IoT (internet of things), and medical industries. Learn more through this video.
Displaytech
Displaytech offers color TFT displays with resistive and capacitive touch screen technology, monochrome and RGB backlit graphic LCD modules, character displays, and LCD development kits.
HDP Power
HDP Power specializes in external and embedded power supplies along with rechargeable battery assemblies and charging systems.