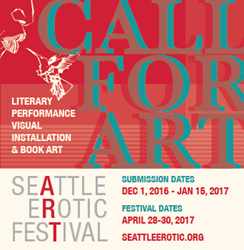 This three-day festival showcases the finest thought-provoking, contemporary erotic art from around the world.
Seattle, WA (PRWEB) January 05, 2017
The Seattle Erotic Art Festival (SEAF) announces its open call for its 15th annual event to be held April 28-30, 2017 at the Seattle Center. SEAF is an internationally-recognized celebration of erotic art and performance unlike any other festival or gallery you've ever experienced. The three-day event touts some of the finest erotic art in the world. Event planning is full-tilt underway for the 15th anniversary festivities. Artists, creators and experimenters are invited to propose projects large and small - visual art, exhibitions and installations, as well as burlesque performances, pantomimes, poetry readings, lectures and live music. SEAF celebrates and promotes freedom of sexuality, speech and creativity through the erotic expression of fine art, in all its sexy, beautiful forms.
"Creating erotic art is a form of activism," says Festival Director Sophia Iannicelli. "When you create art, you are encouraging the world to accept sexuality as a vital element of the human experience. You are giving the viewer a chance to see something within themselves that previously was hidden. You are furthering the discussion of eros and how it relates to our emotional, physical, spiritual, and intellectual lives."
Artists interested in submitting their work to the Festival can learn more about SEAF's submission policies and jury processes here: seattleerotic.org/artists/. Artists do not need to attend the Festival to be accepted.
Artists and creative teams are asked to submit their visual, literary, and store art, and proposals of performance and/or interactive installations online starting noon, December 1, 2016.
Deadline for entries is 11PM, January 15, 2017.
The online entry form can be found at https://submissions.seattleerotic.org.
About Seattle Erotic Art Festival (SEAF)
SEAF was first produced in 2003 by the Sex Positive Community Center (now Foundation for Sex Positive Culture). SEAF encourages the creation, enjoyment, and purchase of erotic art–sparking conversations to ignite personal and cultural evolutions.
About Foundation for Sex Positive Culture (FSPC)
FSPC's mission is to promote personal and cultural acceptance of consensual sexuality through education and the arts. It offers consent-based workshops, regular monthly events, social and support groups, and a comprehensive library of over 10,000 pieces – all in a safe, welcoming space.