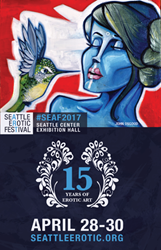 On April 28-230, 2017, Seattle Erotic Art Festival will celebrate its 15 anniversary of showcasing the world's finest erotic art.
Seattle, WA (PRWEB) April 19, 2017
Seattle Erotic Art Festival is known worldwide for a comprehensive collection of international fine art celebrating the diversity of human sexual expression. The incredible creativity with which artists approach the subject of erotica is captured in all manner of visual media: painting, photography, sculpture, assemblage, prints, mixed media, and more.
Seattle Erotic art Festival is more than just an art show, it's an interactive experience with lectures by amazing educators like Tobi Hill-Meyer, art tours with festival artists, naughty figure drawing, and a myriad of ways for patrons to be a part of creating art at the festival. A very special interactive installation by Miss Indigo Blue will be available on Saturday, April 29th, culminating in a Twirling Tassels flash mob during the dance party!
Aaaahz! returns to the festival with a bevy of seductive experiences, ranging from mild to wild. There is a special event within the festival, Aaaahmazingly Racy with gifts, prizes, and a celebratory class on champagne. And remember, consent is always respected. Observation is a valid form or participation.
World class performances await you, both on and off the stages. Midori, the renown international artist and sexuality educator, will debut "Kimono 2: What We Wear" in the US. Local performance luminaries Ms. Briq House, The Shanghai Pearl, Boom Boom L'Roux and Syniva Whitney as the festival's guest curators will blow you away with their daring stage shows!
Ambient performance at the Festival is interactive art that breaks the 4th wall by using the entirety of the festival space as the stage. Ambient performers engage directly with our guests, creating an immersive environment.
The Seattle Erotic Art Festival is an experience unlike any other festival or gallery! Peruse a curated selection of erotic art, literary works, workshops, and a variety of performances; stay through the night for our sexy art party filled with DJs, even more performances, interactive stations, and a lively crowd. Join us April 28-30 at the Seattle Center Exhibition Hall. Single-Day & Weekend festival passes available!