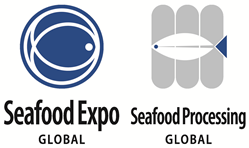 "While we all continue to navigate this difficult situation, the Seafood Expo Global/Seafood Processing Global team is engaged in intensive planning for the next edition, scheduled for 27-29 April 2021, in our beautiful new location, Fira Barcelona Gran Via, in Barcelona, Spain."
PORTLAND, Maine (PRWEB) April 16, 2020
Today, Diversified Communications, organizer of Seafood Expo Global/Seafood Processing Global, the world's largest seafood event, has reluctantly determined that the continued and expanding magnitude of the public health and safety issues caused by COVID-19 worldwide now requires the cancellation of the 2020 edition of Seafood Expo Global/Seafood Processing Global. The event had previously been postponed due to COVID-19.
Seafood Expo Global/Seafood Processing Global was originally scheduled for 21-23 April 2020 at the Brussels Expo in Belgium. "When we announced the postponement of the 2020 event, we had expected to reschedule later this year," said Liz Plizga, Group Vice President, Diversified Communications.
Given the recent announcement that the limitation on large gatherings in Brussels has been extended through 31 August 2020 and the ongoing impacts of COVID–19, including global travel restrictions, and the broad need to practice physical distancing, Diversified Communications has concluded it is impossible to hold the event. The complexities of organizing a safe, global, seafood event drawing seafood professionals from more than 158 countries in the midst of a pandemic pose too many insurmountable hurdles. "We are disappointed to concede that hosting a 2020 edition of the event is infeasible," added Plizga.
In the coming weeks, the Seafood Expo Global team will continue to reach out to exhibitors regarding the 2021 edition and will answer questions around the cancellation of the 2020 edition.
"While we all continue to navigate this difficult situation, the Seafood Expo Global/Seafood Processing Global team is engaged in intensive planning for the next edition, scheduled for 27-29 April 2021, in our beautiful new location, Fira Barcelona Gran Via, in Barcelona, Spain," commented Plizga.
About Seafood Expo Global and Seafood Processing Global
Seafood Expo Global and Seafood Processing Global form the world's largest seafood trade event. Thousands of buyers and suppliers from around the world attend the annual, three-day exposition to meet, network and conduct business. Attending buyers represent importers, exporters, wholesalers, restaurants, supermarkets, hotels, and other retail and foodservice companies. Exhibiting suppliers offer the newest seafood products, processing and packaging equipment, and services available in the seafood market. SeafoodSource.com is the exposition's official media. The exposition is produced by Diversified Communications, the international leader in seafood-industry expositions and media. http://www.seafoodexpo.com/global
About Diversified Communications
Diversified Communications is a leading international media company with a portfolio of face-to-face exhibitions and conferences, online communities and digital and print publications. As producers of these market-leading products Diversified Communications connects, educates and strengthens business communities in over 15 industries including: food and beverage, healthcare, natural and organic, business management and technology. The company's global seafood portfolio of expositions and media includes Seafood Expo North America/Seafood Processing North America, Seafood Expo Global/Seafood Processing Global, Seafood Expo Asia and SeafoodSource.com. Established in 1949 and headquartered in Portland, Maine, USA with divisions and offices around the world, Diversified Communications remains a privately held, third generation, family-owned business. For more information, visit: http://www.divcom.com.
Media Contacts:
Adam Morris
Senior Marketing Coordinator
Diversified Communications
Tel: +1 207 842 5478
amorris@divcom.com