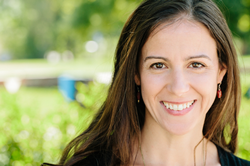 "This is an excellent opportunity for me to pair my passion and expertise with a cause and mission that I deeply care about," Claudia said. "I look forward to working with the other board members on the important work being done by SNP to inspire Americans to eat more sustainable seafood."
ARLINGTON, Va. (PRWEB) February 19, 2019
Seafood Nutrition Partnership (SNP) is pleased to announce Jacqueline Claudia as a new member of the Board of Directors.
Claudia is the CEO and Co-Founder of LoveTheWild, an award-winning frozen seafood line that is making a positive impact on the health and wellness of people and the planet. She is a self-proclaimed "fish nerd" with a passion for the sustainable aquaculture industry.
"This is an excellent opportunity for me to pair my passion and expertise with a cause and mission that I deeply care about," Claudia said. "I look forward to working with the other board members on the important work being done by SNP to inspire Americans to eat more sustainable seafood."
Claudia founded LoveTheWild to de-demonize farmed fish and make it easier for people to cook fish at home. She spent 15 years working in corporate strategy and innovation before founding LoveTheWild.
"We are excited to have Jacqueline, an expert in consumer insights and sustainable seafood, join the SNP board," SNP Board Chair Steve Hart said. "Her extensive leadership and strategy experience paired with her passion for sustainability and seafood will be an invaluable addition to the board."
About Seafood Nutrition Partnership
Seafood Nutrition Partnership (SNP) is a national non-profit with a mission to inspire a healthier America by empowering seafood consumption as part of a balanced diet. SNP is addressing the country's public health crisis through education programs that inspire Americans to incorporate more seafood and omega-3s into their diets for improved health as per USDA/HHS Dietary Guidelines for Americans, the American Heart Association, and many other leading health organizations. For more information, visit http://www.seafoodnutrition.org or follow @Seafood4Health and #Seafood2xWk on social media.