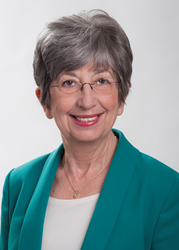 "This is a great opportunity for me to pair my research, experience and passion with a cause and mission that I care about greatly," said Connor. "I'm excited to join the SNP Board of Directors and help to empower more people to improve their health through seafood nutrition."
ARLINGTON, Va. (PRWEB) July 25, 2018
Seafood Nutrition Partnership (SNP) is pleased to announce Sonja Connor, MS, RDN, LD, as a new member of the Board of Directors.
As a former president of the Academy of Nutrition and Dietetics, Connor is a respected and knowledgeable leader of the dietetic community. She is a trailblazing health researcher with decades of research on omega-3 fatty acids and the health benefits they provide in all stages in life.
"This is a great opportunity for me to pair my research, experience and passion with a cause and mission that I care about greatly," said Connor. "I'm excited to join the SNP Board of Directors and help to empower more people to improve their health through seafood nutrition."
Connor's research on the omega-3 DHA in the developing brain led to new insight into infant development and set the stage for the addition of DHA to infant formulas on the market today. She also conducted the Family Heart Study from 1978-1984, a coronary heart prevention study that focused on families making healthy lifestyle changes.
"We are honored to have an expert like Sonja Connor join the SNP board," said Hugh Welsh, Chair of SNP's board. "Her leadership and decades of insight into nutrition science provide another valuable voice from the health science community that support SNP's outreach with the public on the latest research on seafood nutrition."
About Seafood Nutrition Partnership
Seafood Nutrition Partnership (SNP) is the leading 501(c)3 non-profit organization in the U.S. building awareness of the health and nutritional benefits of seafood. SNP is addressing the country's public health crisis through education programs that inspire Americans to incorporate more seafood and omega-3s into their diets for improved health as per USDA Dietary Guidelines. In October 2015, SNP launched a national public health education campaign. For more information, visit seafoodnutrition.org