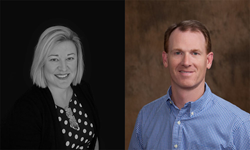 "We are thrilled to have two leaders in the seafood industry join the SNP board," said Steve Hart, Chair of SNP's board. "Stephanie and Jim offer outstanding leadership and decades of consumer insights that will provide great value and direction for the future of SNP."
ARLINGTON, Va. (PRWEB) January 15, 2019
Seafood Nutrition Partnership (SNP) is pleased to announce two new members to its Board of Directors: Stephanie Mattingly of Long John Silver's and Jim Motos of Rich Products Corporation.
"We are thrilled to have two leaders in the seafood industry join the SNP board," said Steve Hart, Chair of SNP's board. "Stephanie and Jim offer outstanding leadership and decades of consumer insights that will provide great value and direction for the future of SNP."
Mattingly is the Vice President of Marketing at Long John Silver's. Her responsibilities include driving sales, transactions and profit for the world's most popular quick service seafood chain with almost 1,000 restaurants worldwide. She leads the development of brand strategy, promotions, advertising and public relations, and she works closely with the culinary team to develop high-quality, innovative and flavorful seafood to delight consumers.
Motos, the Senior Vice President of the Consumer Brands Division of Rich Products Corporation, is a member of multiple industry boards and is passionate about educating Americans of the benefits of including seafood in their weekly diet. He joined Rich's in 2006 as a National Account Manager after a seven year career with Hormel Foods Corporation. He has held various positions at Rich's in Sales and Insights before advancing into his current role leading the Consumer Brands Division in May 2017.
About Seafood Nutrition Partnership
Seafood Nutrition Partnership (SNP) is the leading 501(c)3 non-profit organization in the U.S. building awareness of the health and nutritional benefits of seafood. SNP is addressing the country's public health crisis through education programs that inspire Americans to incorporate more seafood and omega-3s into their diets for improved health as per USDA/HHS Dietary Guidelines for Americans, the American Heart Association, and many other leading health organizations. For more information, visit http://www.seafoodnutrition.org.