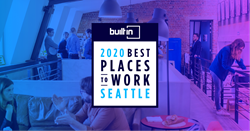 BELLEVUE, Wash. (PRWEB) January 13, 2020
Seagull Scientific, maker of BarTender® software, announced today that it was included on Built In Seattle's 2020 list of "Best Places to Work in 2020." The organization was also named to Built In's "Companies with the Best Benefits" and "Best Midsized Companies to Work For" lists. Companies are selected based on data submitted by companies and their employees.
"This award reflects our commitment to attracting and retaining top talent in today's hyper-competitive global technical job market," said Harold Boe, President and CEO of Seagull Scientific. "We've put a lot of thought and hard work into making sure Seagull Scientific remains a world-class environment for our employees — they're our greatest asset, and it's important to us that they understand how highly their contributions are valued. We're very proud to be recognized by Built In Seattle."
Maria Christopoulos Katris, CEO and Co-Founder of Built In, said: "We extend our heartfelt congratulations to our 2020 honorees. Built In aims to change lives by connecting talented tech professionals with jobs they were born to do. These companies have become part of that mission because they stand for more than just the work they're doing. They stand for their people and purpose."
She added: "We also extend our gratitude. These companies exemplify what it means to be an employer of choice for today's purpose-driven tech workforce. Writing about them inspires us daily and, in terms of our offering, gives us total confidence that the professionals who visit our websites will find work that gives them a strong sense of professional and personal meaning."
About Seagull Scientific
BarTender software transforms information into the labels, barcodes, RFID tags and documents that drive business. BarTender helps our customers around the world improve safety, security, efficiency and compliance through easy, powerful design; fast, accurate printing on demand; comprehensive system control; straightforward integration and legendary technical support. Hundreds of thousands of companies in virtually every industry trust BarTender with the labeling and marking processes that keep their businesses running. With corporate headquarters and software development in Bellevue, Washington, USA, and branch offices in Madrid, Taipei and Tokyo, BarTender is available in more than 150 countries through a global network of local partners. Learn more at http://www.seagullscientific.com.
About Built In
Working in tech is a way of life. Built In helps people live it with purpose. Across the most vibrant tech hubs in the US, Built In helps tech professionals stay on top of tech news and trends, expand their networks and carve out futures at companies they believe in. Built In attracts a niche audience of 1 million tech professionals every month and, in 2019, the company hit a milestone, serving 1,100 companies annually. Built In recently launched BuiltIn.com, a national hub for tech trend coverage and resources to help professionals grow in their careers.
Best Places to Work Methodology
Built In's list rates companies algorithmically based on compensation data and employer benefits. Rank is determined by combining a company's score in each of these categories.
# # #