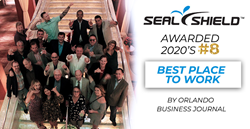 ORLANDO, Fla. (PRWEB) July 08, 2021
Seal Shield is again proud to share the company's recent recognition as an honoree for 2020 Orlando's Best Places to Work by the Orlando Business Journal, earning the #8 position within the category of 'Micro Companies.'
Seal Shield has been awarded based upon third-party survey results among its 40 employees. Noteworthy is the company's unique culture of employee 'Ownership Thinking,' as well as top-of-the-line employee benefits including full-coverage medical care, government maximum HSA contributions, and profit sharing.
Orlando Business Journal's Best Places to Work event is designed to honor the region's top employers. Companies awarded are recognized for going above and beyond to create a meaningful work environment for employees at every level. Seal Shield company Founder & CEO, Brad Whitchurch noted, "It's extremely gratifying to achieve this recognition by our employees, alongside so many other notable employers in the Orlando area. To all of our employees, I want to say Thank You! It's your efforts that make us great!"
Seal Shield, founded in 2006, was built upon providing industry-leading technology for infection control and an understanding of the challenges that healthcare workers and those on the front lines are faced with – especially during times like these with the COVID-19 pandemic. The company strives to not only provide exceptional product technologies and customer service, but also a first-class employee experience and company culture.
Seal Shield is a world leader in innovative infection-control solutions. Seal Shield designs, develops, and manufactures medical-grade solutions including waterproof keyboards and mice, screen protectors, and UV-C technology.
For more information contact:
sales@sealshield.com