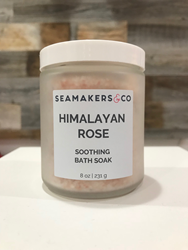 LA JOLLA, Calif. (PRWEB) December 30, 2018
seamakersco.com [SeaMakers & Co. __title__ ] in La Jolla, CA - a one-stop destination for natural beauty brands – has announced the launch of its own blend of Soaking Salts - Himalayan Rose Bath Soak.
The heavenly blend of Himalayan, Dead Sea and Epsom Salts is formulated to help soothe sore muscles and tired minds. The mineral- and nutrient-rich salts will calm and detoxify the body, while the light floral scents of Rose and Ylang Yang will relax the mind.
Priced at $20 for a 8oz jar, the Bath Soak is now available in-store or online at https://seamakersco.com
SeaMakers' mission is to bring the best in toxin- and cruelty-free beauty and lifestyle products, services and education to its local and online community. Founding owner, Mary Beltrante, is a Clean Beauty expert and personally selects and carries the best-known Clean Beauty brands in the industry. Mary opened the store because she is deeply passionate about making non-toxic, natural and sustainably-made products more accessible. She has learned through personal experiences and research that the personal care industry is massively unregulated—which means that companies are essentially free to do whatever they want, with no government oversight - packing products that we use every day (mascara, face wash, shampoo) with toxic ingredients, including known carcinogens and endocrine disruptors.
SeaMakers is playing an integral part in the clean beauty movement, creating a new standard of beauty that it simply calls "clean," which customers see in action in the products the store carries. Clean, for SeaMakers means a non-toxic product that is made without a long, ever-evolving list of ingredients linked to harmful health effects from hormone disruption, to cancer, to plain-old skin irritation. To name just a few: parabens, phthalates, PEGs, ethanolamines, chemical sunscreens, synthetic fragrance, BHT, BHA.