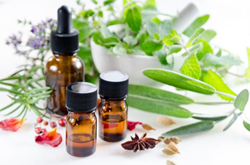 We're excited to offer our customers the opportunity to talk bout their skin and learn more about the power of oils to help it stay balanced; also for them to be able to walk away with a blend that is formulated exactly for them, their immediate needs and to their taste, in terms of scent.
LA JOLLA, Calif. (PRWEB) December 30, 2018
seamakersco.com [SeaMakers & Co. __title__ ] in La Jolla, CA - a one-stop destination for natural beauty brands and education – is pleased to announce the opening of its Custom Oil Bar. Guests and parties will now be able to book 'seats' at the Oil Bar where they will be treated to a short overview of the power and efficacy of plant oils and their ability to bring and keep skin in balance.
Each guest will have the opportunity to have a 1:1 consultation with an oil specialist to create their own customized facial, body or hair oil blend; one that is suited to their individual skin needs and desired scent.
The Oil Bar is open nightly Monday-Saturday from 6:30pm – 8:00pm and Sundays from 4:30pm - 6:00pm, by appointment. Guests can book seats online at seamakersco.com or by calling (858) 412 4269. Each seat costs $50 and includes a consultation with a specialist, a 1oz customized oil blend and complimentary beverages.
SeaMakers' mission is to bring the best in toxin- and cruelty-free beauty and lifestyle products, services and education to its local and online community. Founding owner, Mary Beltrante, is a Clean Beauty expert and personally selects and carries the best-known Clean Beauty brands in the industry. Mary opened the store because she is deeply passionate about making non-toxic, natural and sustainably-made products more accessible. She has learned through personal experiences and research that the personal care industry is massively unregulated—which means that companies are essentially free to do whatever they want, with no government oversight - packing products that we use every day (mascara, face wash, shampoo) with toxic ingredients, including known carcinogens and endocrine disruptors.
SeaMakers is playing an integral part in the clean beauty movement, creating a new standard of beauty that it simply calls "clean," which customers see in action in the products the store carries. Clean, for SeaMakers means a non-toxic product that is made without a long, ever-evolving list of ingredients linked to harmful health effects from hormone disruption, to cancer, to plain-old skin irritation. To name just a few: parabens, phthalates, PEGs, ethanolamines, chemical sunscreens, synthetic fragrance, BHT, BHA.