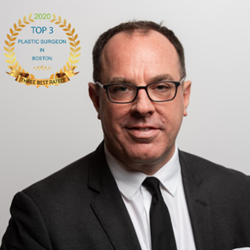 BOSTON (PRWEB) July 30, 2020
Sean Doherty, MD, was recently awarded the distinction of being included in Three Best Rated's top 3 plastic surgeons in Boston. The website awards the rating after a meticulous 50-point inspection. The selection process considers factors such as the surgeons' history, patient reviews, complaints, and satisfaction. It also takes into account treatment cost, consumer trust, ratings received from other sources, and general excellence.
Three Best Rated is a trusted review website that conducts rigorous evaluations to identify the highest-quality businesses throughout the United States. The review service has positioned itself as an authority in distinguishing quality over quantity and its awards are trusted by its thousands of readers.
Dr. Doherty currently provides his expert services in plastic surgery of the face and body at the Boston Center for Facial Rejuvenation on Newbury St. in Boston and in Brookline, Mass. He also works with Cynosure in Westford, MA, as Medical Director and Principal Investigator. Other than his day-to-day interactions with patients, Dr. Sean Doherty stays on the cutting edge of the plastic surgery and dermatology fields.
His current professional engagements are rounded out by a collaboration with innovative pharmaceutical company Allergan. Top research and product development occur at the Irish-domiciled biotech company which places emphasis on dermatological, gastroenterological, and eye care products. There, Dr. Doherty offers his expertise as a speaker, trainer, and peer-to-peer educator.
The selection by Three Best Rated is a continuation of a long string of awards and recognition by top publications and authorities. The American Board of Plastic Surgeons board-certified doctor has built a tradition of excellence that cannot be overlooked.
Most recent awards include Top Doctor of plastic surgery in 2020, 2019 and 2017 by Boston Magazine. In 2017, Dr. Doherty made the RealSelf Top 100 while also being inducted into the cosmetic surgery reviewer's Hall of Fame. Other honors include 2012, 2013, 2015 and 2016 Patients' Choice awards by Vitals. The list continues with recognition from Castle Connolly, Top 3 Plastic Surgeons, and America's Best Physicians.
Three Best Rated notes Dr. Sean Doherty's extensive experience in cutting-edge reconstructive and cosmetic procedures. The rating authority cites Dr. Doherty's affiliation with Emerson Hospital, St. Elizabeth's Medical Center, Beth Israel Deaconess-Needham Medical Center, and Mass Eye and Ear Infirmary.
Sean Doherty, MD, is an award-winning plastic surgeon in Boston, MA who treats both men and women on their face and bodies. Receiving board certification in 2010, Dr. Doherty is recognized by peers and patients for his expertise in both surgical and non-surgical procedures.
###
If you would like more information on Dr. Doherty's services, please fill out the contact form on his website where you can ask about specific procedures of interest. On the contact page, you can find patient paperwork and HIPAA documents ready to download. You can also click through to view before and after photos of procedures as well as read patient testimonials. Alternatively, you can call Dr. Doherty's Boston office at (617) 935.0801 or his Brookline office at (617) 996.7604.