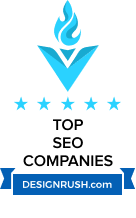 "Research and Development is instrumental to ensuring we are ahead of the curve on all of our SEO initiatives. This award affirms that we are delivering services at a world- class standard." - Paul Ramkissoon, President, Consult PR
WEST PALM BEACH, Fla. (PRWEB) February 28, 2023
Top SEO firm, Consult PR (CPR), has won yet another award, this time named the "Top Florida SEO Company" award for 2022. This award is given by DesignRush, an agency listing guide that helps find the best match of professionals categorized by their area of expertise. DesignRush analyses and ranks hundreds of agencies to help brands find top full-service, web design companies, digital marketing firms, and top technology companies.
"Research and Development is instrumental to ensuring we are ahead of the curve on all of our SEO initiatives. We've earned this recognition thanks to the wonderful collaboration between our skilled team members and our clients. This award affirms that we are delivering services at a world- class standard." Paul Ramkissoon, President, Consult PR.
"Our Research and Development (R&D) team monitors the latest trends and techniques in the SEO landscape. It gives us great satisfaction whenever we can correlate the initial research work with an actual award." Shailesh Singh, R&D Manager Consult PR.
CPR is known as an industry leader that always keeps their clients up to date on the latest in SEO and ensures that their web presences rank highly for searches. The firm's consultative approach with clients stems from their corporate culture that thrives on educating clients on what's possible on the internet. They are headquartered in West Palm Beach, FL with six offices worldwide.