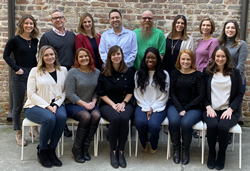 NEW ORLEANS (PRWEB) December 04, 2019
Search Influence, a New Orleans based digital marketing agency, invites interested applicants to the office for an evening of networking, followed by presentations about the company, various departments, open positions, and company benefits.
"We know that finding the right fit at work is key to professional growth," says Angie Scott, COO & Co-Founder. "We are opening our doors to potential applicants and community members in hope of making it easier to find the right fit for both the company and employees. We know applying for a job is as much about interviewing our team as it is about us learning more about the candidate. We want to make sure candidates get to experience our genuine and collaborative environment of which we are so proud."
Search Influence is hiring for six open positions across four departments and various experience levels, including director, mid, and entry-level. Open positions include Director of Operations, Account Manager, Account Coordinator, Product Manager, Sales Executive, and Junior Quality Assurance Analyst. Job postings can be found on the company's website.
"We have been lucky to see growth in both new and existing clients over the last year. We are also lucky our clients drive us to grow and improve. Our success is defined by their success. We are looking for CHARGED individuals who are committed to both customer success and their own professional growth," says Will Scott, CEO and Co-Founder.
Candidates will also get a tour of the new Search Influence offices which offer unique and personalized spaces to deliver the needs of each department. Search Influence offices provide the space in which the team excels. "This new office space allows us to create an environment that fosters creativity and sets us up for success," added Scott.
WHO: Search Influence
WHAT: Careers Open House
WHEN: Tuesday, December 10, 2019 and Tuesday, January 14, 2020
5:30 - 7:00 p.m.
Schedule of events:
5:30: Arrival and networking
6:15: Brief presentations about Search Influence, values, benefits, and open positions, including the responsibilities of each department.
WHERE: Search Influence's address is 1610 Oretha Castle Haley Blvd., New Orleans, LA 70113 and can be reached at (504) 208-3900.
HOW: Advance registration is recommended at this link.
For any questions about the event, email jobs@searchinfluence.com.
Founded in 2006 and based in New Orleans, Search Influence is a catalyst driving ROI-focused marketing strategies that provide critical support to optimize the potential of each client's value proposition. The full-service digital marketing agency services clients across the country pace-setting in search engine optimization, paid digital advertising, social media marketing, and other made-to-measure strategies that elevate a company's connection with their clients. Follow along using the hashtag #searchinfluence or visit searchinfluence.com