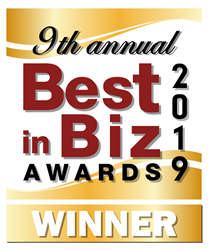 Charlotte, N.C. (PRWEB) November 29, 2019
Search Solution Group is honored to have been named Company of the Year by Best in Biz, the independent business awards program judged by prominent editors and reporters from top-tier publications in North America. As an innovation leader in the recruitment field, Search Solution Group continues to prove its dedication to quality and constant improvement with the announcement of this achievement.
Each year, winners in Best in Biz Awards are determined based on scoring from independent judging panels assembled from some of the most respected newspapers, TV and radio outlets, and business, consumer, technology, and trade publications in North America. With more than 700 entries, the 9th annual Best in Biz program attracted a record number of entries from an impressive array of public and private companies of all sizes, making Search Solution Group's award especially notable.
"The Company of the Year award is a proud achievement for Search Solution Group as it demonstrates our efforts to provide the best recruitment services and company environment possible. Search Solution Group strives to offer unparalleled services to our clients and maintain a foster a winning environment for our employees. I am so proud of our team in assisting us in getting the Company of the Year status, and I foresee us remaining there."- Dave Holtzman, Search Solution Group President
This award, in conjunction with the recent recognition of Search Solution Group being named one of Charlotte's Best Places to Work for six consecutive years, is a staggering testament to the company's devotion to its employees and clients. Search Solution Group, the pioneering national recruitment firm, can attribute its gold Company of the Year success to its commitment to company culture, dedication to learning and development, and offering clients a full range of recruitment services through their three focused divisions: Executive Search, Direct Hire Recruitment, and Contract Staffing.
Search Solution Group's Sr. Director Of Corporate Strategy Josh Mangum, was also named 2019 Best Marketing Executive by Best in Biz. Josh has been an invaluable member of Search Solution Group as he's led new company directives and continues to introduce compelling marketing initiatives for the company. With this Company of the Year award, Search Solution Group and its team maintain its status as a trailblazing recruitment firm.