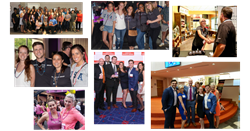 CHARLOTTE, N.C. (PRWEB) November 11, 2019
Search Solution Group is honored to be named one of the Best Places To Work by the Charlotte Business Journal for the 6th straight year. The multifaceted recruitment firm continues to promote their "grit, responsiveness, integrity, and teamwork" core values and cultivate their culture that celebrates both individual success and team accomplishments.
Search Solution Group takes pride in improving upon themselves by considering employee feedback and offering superior company benefits and programs, all of which have contributed to the company's continued success. Employees enjoy catered lunches, team fundraising activities, and ongoing dedicated development training. Search Solution Group encourages its employees to grow both professionally and personally to further improve upon themselves and their ability to service the Charlotte area.
"I am so proud of our team for making the list an incredible six years in a row. We have always been dedicated to our employees, making sure that we provide a great environment and foster advancement in their careers. We are also committed to our continuous philanthropic work with multiple Charlotte charities that strive to improve our community. This has resulted in substantial growth for our company, and we foresee continuing that growth with the addition of 20 new team members in the upcoming year."
– Dave Holtzman, Search Solution Group President
The Best Place to Work award recognizes companies whose benefits, culture, policies, and practices that extend far beyond what is typical in the Charlotte area. This award is a fantastic opportunity for companies to prove their commitment to their employees and internal culture. Search Solution Group was named the #17 best place to work in Charlotte for the large company category. Representatives from Search Solution Group networked with other recipients of the award at Topgolf in Charlotte Friday in celebration of the award.
As an unparalleled recruitment firm, Search Solution Group caterers to their clients' hiring needs by providing a full range of recruitment services through three focused divisions; Executive Search, Direct Hire Recruitment, and Contract Staffing. Although each division is highly specialized and unique, every team member is driven by the same culture that unifies the pioneering recruitment firm.