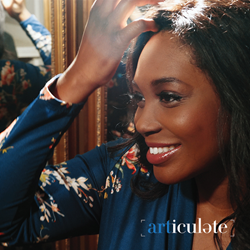 PHILADELPHIA (PRWEB) November 17, 2020
EPK, Social Media Kit, Press Photos
The Articulate Foundation and Lehigh Valley Public Media announce the release of Season 6 of the Emmy® Award-winning magazine series "Articulate with Jim Cotter." Starting November 20, 2020, thirteen new 30-minute episodes will feed from American Public Television (APT) to public television stations nationwide. Watch online at articulateshow.org.
Since 2015, "Articulate" has informed and uplifted audiences with stories of how creative thinking shapes our world. Through interviews, live performances, and distinctive storytelling, the Emmy® Award-winning magazine series has earned its reputation as a one-of-a-kind window into the ideas and experiences of diverse artists, from authors and architects to musicians and dancers.
Season 6 of "Articulate" will transport audiences to a Swiss music hall, unpack our understanding of monumental sculpture, and playfully explore a theory of automobile design named for iconic West Side Story gangs the Jets and the Sharks. Featured guests include Tony Award-winning Broadway composer Jason Robert Brown, MacArthur "genius" choreographer Liz Lerman, Grammy Award-winning singer-songwriter Rufus Wainwright, and acclaimed operatic soprano Angel Blue.
Reflecting on making television during a pandemic, "Articulate" host Jim Cotter said, "Throughout 2020, the Articulate team has continued to find new, safe ways to work. Because of this, 'Articulate' is able to offer viewers answers and solace during these unprecedented times with original perspectives on where we've been, who we are, and what we might become."
A new "Articulate" website, launching in December 2020, will include a searchable directory of high school lesson plans based on "Articulate" segments. Created for use in physical and virtual classrooms, the plans integrate the arts and creative problem-solving into STEM, ELA, and social studies instruction.
About the Articulate Foundation
Through our Emmy® Award-winning public television program, "Articulate with Jim Cotter," its associated digital media platforms, and other educational vehicles, the Articulate Foundation connects a diverse audience to the human stories behind art, fostering continued real-world engagement with creativity. We envision a world where artists are valued and respected for their ideas, modes of thinking, and productivity, and where the contributions of creative minds are core to thinking in the classroom, in the boardroom, in government, and beyond.
About Lehigh Valley Public Media
Lehigh Valley Public Media is home to PBS39, WLVR News, and various community initiatives. We are the regional leader in the publicly funded, non-profit media space and serve a vibrant and growing economic region through a dedication to local, unbiased journalism, primary and secondary education, workforce development and health and wellness. PBS39 broadcasts four additional channels of content: PBS39 Extra, WORLD, Create TV and France 24. Lehigh Valley Public Media is licensed in Allentown to the Lehigh Valley Public Telecommunications Corporation. For more information, visit PBS39.org.
About American Public Television
American Public Television (APT) is the leading syndicator of high-quality, top-rated programming to the nation's public television stations. Founded in 1961, APT distributes 250 new program titles per year and more than one-third of the top 100 highest-rated public television titles in the U.S. APT's diverse catalog includes prominent documentaries, performance, dramas, how-to programs, classic movies, children's series and news and current affairs programs. Doc Martin, Midsomer Murders, America's Test Kitchen From Cook's Illustrated, AfroPoP, Rick Steves' Europe, Christopher Kimball's Milk Street Television, Front and Center, Lidia's Kitchen, Kevin Belton's New Orleans Kitchen, Simply Ming, The Best of the Joy of Painting with Bob Ross, James Patterson's Kid Stew and NHK Newsline are a sampling of APT's programs, considered some of the most popular on public television. APT also licenses programs internationally through its APT Worldwide service and distributes Create®TV—featuring the best of public television's lifestyle programming—and WORLD™, public television's premier news, science and documentary channel. To find out more about APT's programs and services, visit APTonline.org.